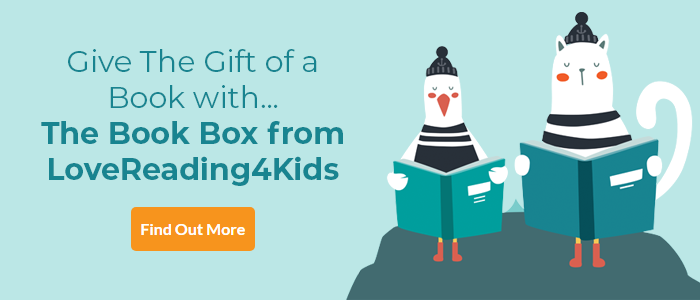 Amelia Fang and the Half-Moon Holiday Review
Holiday fun with your favourite little vampire
Fang-tastic for newly confident readers, these gorgeously illustrated stories are full of excitement, and little vampire Amelia is as cheerful, resourceful and generous heroine as you could want. In this adventure she and her friends are heading off for a week away with the rangers. They're expecting outdoor games and activities, but end up teeny-tiny thanks to a curse, a curse they can only lift by mending a broken heart. They do of course, and make lots of new friends along the way, including a regal bee and kind-hearted mermaid. With a fabulous set of characters, these stories are always lots of fun, a quirky mix of the everyday – feelings and friendships – with other-worldly, slightly ghoulish goings-on. Laura Ellen Anderson has lots of fun with the plots and language, and these are deservedly popular.
Readers who enjoy Amelia's escapades will also enjoy A Moon Girl Stole My Friend by Rebecca Patterson.
Other Info
Have you read Amelia's first adventure, Amelia Fang and the Barbaric Ball? When she's not trying to take over the world or fighting sock-stealing monsters she's going to the ball!. Here's the trailer:
Amelia Fang and the Half-Moon Holiday Synopsis
A brand new title in the bestselling gorgeously gothic and wickedly funny Amelia Fang series - perfect for readers of 7+
Meet Amelia Fang....the bravest little vampire in the kingdom. It's the half-moon holidays in gloomy Nocturnia which means no school for Amelia and her friends! Instead they are going to spend it with their Rainbow Rangers troop, (lead by unicorns Ricky and Graham) earning badges on Sugar Plum Island. But whilst exploring, Amelia and the gang stumble upon an ancient curse - and are shrunk to the size of bugs! How will they make the bloodcurdlingly BIG journey to break the curse when they are all so very TINY?
Sink your teeth into Amelia's other howlingly hilarious adventures:
Amelia Fang and the Barbaric Ball,
Amelia Fang and the Unicorn Lords,
Amelia Fang and the Memory Thief.
Amelia Fang is perfect for readers of 7+ and fans of Witch Wars, The Worst Witch and Isadora Moon.
Amelia Fang and the Half-Moon Holiday Reader Reviews
Some of our Lovereading4kids Reader Review Panel were lucky enough to read and review another in this series, Amelia Fang and the Unicorn Lords. You can read their full reviews by clicking here.

Edith and Emily, age 5 and 7 - 'Lovely funny book. Right combination of farts and glitter to appeal to kids...I thought it was beautifully presented with purple edged paper and shiny purple on the front cover. We all loved the very Tim Burtonesque illustrations.'
Sam and Jack Radford, age 5 and 7 - 'Magic, fun and adventures - a really good read! We thought it was great fun and would like to read more about Amelia.'
Aggie Daniels, age 7 - 'FIVE STARS from me. I loved this book.'
James McNichol, age 8 - 'It is an adventure story about vampires, unicorns and angel-kittens.'
Isabella, age 10 - 'I think Amelia Fang and the Unicorn Lords is a good book. It was a really fun and exciting book.'
Ellen, age 8 - 'This book was good and enjoyable to read. I am not a big fan of unicorns but this did not stop me from giving it a go!'
Rosie Watch - 'A complicated mix of characters and plot set within a world of good and evil, light and darkness.'
Eve Year 7, Thorp Academy - 'I would completely recommend this book as it is an exciting page turner and so well illustrated. I would give this book 5/5 stars and have recommended it to my friends already.'
Amelia Fang and the Half-Moon Holiday Press Reviews
The perfect mix of funny, foul and fearful - Metro
Brilliantly imagined . . . laugh-out-loud funny - Sunday Express
If you loved this, you might like these...