LoveReading View on Pog
Two children battle evil with the help of a magical friend
Exciting, touching and with a real sense of magic, Pog is exactly the kind of story readers love. David and Penny move into a new home in an ancient forest after their mother's death. Unbeknownst to them, the grief they are feeling makes them prey to dark forces from a different world and they are in real danger. Fortunately they have a protector in the small, hairy figure of Pog, last of the Fairy Folk, who is assigned to guard the door between this world and the dark, other one. But the threat is greater than any of them realise, and the adventure that develops is full of tension and drama as well as moments that are deeply moving. There are shades of classic magical stories – Narnia even – though this feels completely original, and it touches sensitively on issues of loss. Highly recommended.
Other Info
A Piece of Passion from Barry Cunningham, Publisher, Chicken House;
I've always believed in (my fellow!) little people. Often hidden, they help us in small but important ways – and they're always there when things get too tough. In legend, little people are forever a connection to other worlds . . . and that's the case in this extraordinary story too. Pádraig gives heart and soul, danger and excitement to what happens when children need help the most.
Pog Synopsis
David and Penny's strange new home is surrounded by forest. It's the childhood home of their mother, who's recently died. But other creatures live here ... magical creatures, like tiny, hairy Pog. He's one of the First Folk, protecting the boundary between the worlds. As the children explore, they discover monsters slipping through from the place on the other side of the cellar door. Meanwhile, David is drawn into the woods by something darker, which insists there's a way he can bring his mother back ...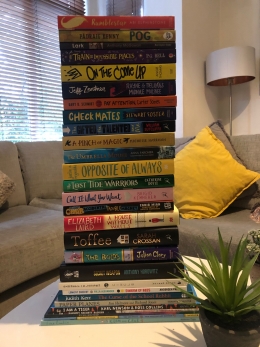 WE LOVE BOOKS! LoveReading4Kids is the biggest and best recommendation site for children's books. Our passion for children's books ranges from toddlers to teens and ensures that whatever the age, whatever the interest, that you have a steady stream of brilliant book recommendations for your child. Created in the same successful format of our original book recommendation website, LoveReading, we have a panel of editorial experts that select books right across the genres and age ranges, reading the latest releases to keep you fully updated. We also offer a variety of FREE services for parents and anyone who is interested in buying the best books for boys and girls of all ages. You can subscribe to our personalised newsletters which help you keep up to date with the latest and greatest book releases while receiving recommendations tailored to you. Sign up and select your preferences by registering with us today and receive our newsletters filled with the latest book recommendations in the categories of your choice. Our Star Books are a selection of our personal favourites from the books we've read each year. The ones that have really stood out from the crowd for us. We always say if you're only going to buy a few books this year, take a look at our Star Books selection. We have a HUGE giveaway for you to really end your year on a high. We're giving you the opportunity to win all the books selected as Star Books this year! That's around 40 books that you can keep for your family, share with friends or give as Christmas gifts. A year's worth of reading and some of our favourite books published this year, for you, for free! What are you waiting for? This draw is open only for UK residents currently in the UK and is free to enter, multiple entries from the same email address will only be counted once. The draw closes on 6th December 2019. The winners will be notified as soon as possible.
Pog Press Reviews
Praise for Tin:
'One of a kind. Utterly fantastic.' – Eoin Colfer
'A brilliantly original, warm-hearted story.' – Sunday Express
'A superlative debut' – Guardian
'Tin is a remarkably assured debut novel, full of imagination.'
– Irish Independent, Top 50 books of the Year
'An amazing adventure' – The Week Junior

'Every so often you read a book that is so wonderful you wish you had written it – this book is one of those.' – Reading Zone
If you loved this, you might like these...