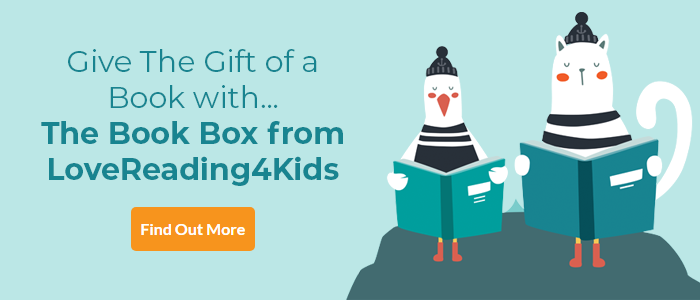 LoveReading View on The Wolf Wilder
A new edition of one of our favourite adventures; original, beautifully written, and full of scenes and ideas that will excite and inspire young readers
Wolves, wildness and freedom are at the heart of this thrilling story. Wolf wilders are employed to reintroduce wolves unfortunate enough to be brought up as pets in rich households back into the wild, and they're easy to spot: they'll be missing a piece of finger, the lobe of an ear, a toe or two. Feo and her mother are wolf wilders, content deep in the forest, at least until the arrival of General Rakov and the imperial army. Rakov treats their wolves with the same brutal contempt he shows to the peasants, and despite her reclusiveness, Feo finds herself fighting alongside her neighbours for what is right. 'Wolves, like children, are not born to lead calm lives' we are told and this a marvellous adventure, original, beautifully written, and full of scenes and ideas that will excite and inspire young readers.
Other Info
A note from Katherine Rundell …
My father is a great storyteller. When we were very young he left for work at 7 a.m., so he used to wake us up at 6 a.m. and tell us stories from history: the World Wars, the slave trade and the Russian revolution. (Sometimes my understanding of the stories in my life blurred, and when I picture William Wilberforce he will always look like Wilbur, the mouse in Brambly Hedge.) My father's picture of Russia was one of deep snow and rich food, and of revolutionaries fighting, with very mixed success, for fairness. There would always be a pair of children at the centre of the stories – who looked, coincidentally, very like my brother and me – two children who joined the fight with both fists. My dad's stories made us feel taller, and hungrier: more capable of changing the world.
The Wolf Wilder is a book built by those early stories: though it's less a history than a fairy-tale kind of adventure informed by history. I wanted to write a book that was a little darker than the last, and a little wilder. I wanted to write about different kinds of bravery, with, I hope, an edge of danger. Most of all, I wanted to write a story about a child learning to trust other people: about a child discovering that the world is huge, and full of spectacular people. Feo, more than any other character I've written, is how I felt as a child: awkward and wary, but hoping always for friendship and for snow. The plot was made up of things I've seen or discovered and loved. The central city of the book is St Petersburg because my grandfather lived there in the years before his death, on the banks of the Fontanka canal, in the building in which (he used to claim) Tchaikovsky wrote The Nutcracker. My grandfather was so obviously and resolutely English that KGB spies used to tail him to church, convinced he was MI5. There was a small ballroom in which, as a teenager, I danced (with an immense lack of grace). So there is dancing in this book, both good and bad, and the great golden domes of St Petersburg. The story is set in the snow because snow has a life of its own: I spent one white winter in rural Scotland, in an old unoccupied shooting lodge. I went weeks without seeing another human. When the pipes froze, I boiled snow for tea. I lit fires, read books, ate icicles and mussels from the lake, and tinned meat. When the worst storms of that year came, I was rescued by an army truck and sent home. I learnt a lot about the different varieties of cold you can be. Later, I read about a Russian recluse who, in the 1970s, used to run barefoot for days through snow with elks slung over his back, and realised I was only a novice at the cold. But I have rarely in my life been so happy. The wilding of animals is a real thing: there is a programme in Zimbabwe, not far from where I spent part of my childhood, where tame lions are taught to feed themselves. And in Yellowstone park they are trying to coax wolves back into the wild. Wolves are the heroes of this book because I think wolves, more than any other animal, are electric. I met a mostly tame one on a cold day in Wales. They really do look nothing like dogs: their shoulders are more muscular and their eyes sharper. They radiate intelligence. They deserve our respect. There are many stories about wolves already, but I think they will always deserve a few more.
The Wolf Wilder Synopsis
Go on an adventure with Katherine Rundell ... From the winner of the Costa Children's Book Prize 'A writer with an utterly distinctive voice and a wild imagination' - Philip Pullman Feodora and her mother live in the snowbound woods of Russia, in a house full of food and fireplaces. Ten minutes away, in a ruined chapel, lives a pack of wolves. Feodora's mother is a wolf wilder, and Feo is a wolf wilder in training. A wolf wilder is the opposite of an animal tamer: it is a person who teaches tamed animals to fend for themselves, and to fight and to run, and to be wary of humans. When the murderous hostility of the Russian Army threatens her very existence, Feo is left with no option but to go on the run. What follows is a story of revolution and adventure, about standing up for the things you love and fighting back. And, of course, wolves.
The Wolf Wilder Press Reviews
A triumph! Exciting, moving, highly original, fierce, completely convincing - Philip Pullman
The Wolf Wilder has everything: it's a truly compelling read; it's beautifully written; it's totally original and yet has the familiar feel of an established classic - Jacqueline Wilson
The Wolf Wilder is the kind of novel that reminds you why books are worth reading and life is worth living - Lauren St John
A gorgeous flight of imagination set in a snowy Russian fantasy world, this has both the beauty and the fierce, funny and uncompromising storytelling style that sets Katherine Rundell's books apart. The Wolf Wilder is a Faberge egg of a novel - rich, bright and perfect - Robin Stevens
If you loved this, you might like these...