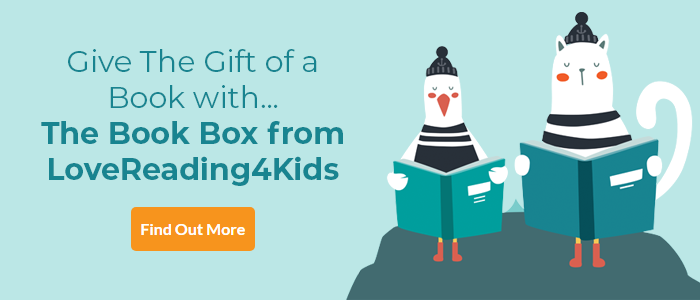 LoveReading View on A Clock of Stars: The Shadow Moth
Bursting with magical ideas, this is a fabulous adventure story packed-full of invention and surprise
May 2021 Debut of the Month | A Julia Eccleshare Pick of the Month May 2021
Imogen's life at home is not all perfect so it's no surprise that she follows the strange silver moth that arrives from nowhere – even when it leads her through a door in a tree! And there's no stopping her little sister Marie from following…Like any magic opening, the door leads the two girls into an extraordinary world where almost anything can – and will – happen! As in the best traditions of children's stories, Imogen and Marie meet a wealth of larger-than-life characters including a spoiled prince and a dancing bear as they journey through a richly-imagined world of possibilities. Chris Riddell's illustrations bring the magic to life perfectly.
Other Info
A Letter from the author;
Dear Reader,
Twelve-year-old Fran would be wildly excited to know that you might read her book. She's the one who thought it'd be fun to write a story about a door in a tree. Grown-up Fran feels exactly the same way – although she has made some changes to the plot.
The story begins with a little girl, called Imogen, who follows a moth into another world. The place she discovers is populated by monsters and bears and a prince who lives in a tower. But Imogen is followed too… by her annoying little sister. Before she gets home, Imogen must learn to sort the truths from the myths and the outright lies.
Could the monsters, that descend on the city each night, be terribly misunderstood? Could the king have a dark secret that's destroying the kingdom? Strangest of all, can little sisters sometimes be useful?
The Shadow Moth is about the importance of questioning the stories we're told (including the stories that we tell ourselves).
I hope you enjoy reading it.
Thank you!
Fran
A Piece of Passion from Nick Lake, Fiction Publisher at HarperCollins Children's Books; "With one of the most startlingly brilliant voices I have seen in years, Francesca Gibbons takes the reader through a magical door and into a world of breathless adventure, suffused at all times with winking humour and boundless heart. I am also thrilled that Chris Riddell is bringing his peerless illustrative talents to A Clock of Stars, which is a real testament to the sheer quality of this stand-out debut. It's time for children all over the globe to enter a whole new world – and fall in love as we did."
--------------------------------------------
Julia Eccleshare's Picks for April 2021
Gaspard's Foxtrot by Zeb Soanes and James Mayhew
The Lightning Catcher by Clare Weze
Harklights by Tim Tilley
A Turtle's View of the Ocean Blue by Catherine Barr
Daddy, Don't Let Go! by Jeanne Willis and Tony Ross
Clock of Stars: The Shadow Moth by Francesca Gibbons and Chris Riddell
A Clock of Stars: The Shadow Moth Synopsis
With all the magic of Narnia and the humour of Mary Poppins, this is a future middle grade fantasy classic - and the beginning of an unforgettable journey... Imogen should be nice to her little sister Marie. She should be nice to her mum's boyfriend too. And she certainly shouldn't follow a strange silver moth through a door in a tree.
But then... who does what they're told? Followed by Marie, Imogen finds herself falling into a magical kingdom where the two sisters are swept up in a thrilling race against time - helped by the spoiled prince of the kingdom, a dancing bear, a very grumpy hunter... and even the stars above them.
Thrilling, sharply funny, and with characters you will fall in love with, A Clock of Stars is a timeless fantasy from an astonishing new voice.
A Clock of Stars: The Shadow Moth Press Reviews
An utterly wonderful, timeless magical adventure packed with all the best things about children's fiction. - Anna James, author of Pages & Co.
A Clock of Stars: The Shadow Moth fluttered straight into my heart. Sometimes you pick up a book and know - from the very first pages - that you're reading an instant classic. This is one of those books. Prepare to be spellbound. - Carlie Sorosiak, author of I, Cosmo
Utterly irresistible and hugely imaginative, the first instalment of a thrilling, funny fantasy series finds two misbehaving sisters plunged into a magical kingdom to face a deadly threat. - Waterstones Best Books of 2020
...a sparkling debut... boasts a funny, engaging voice, a strong sibling dynamic and a bold, intransigent heroine Guardian
If you loved this, you might like these...