Rob Ryan - Illustrator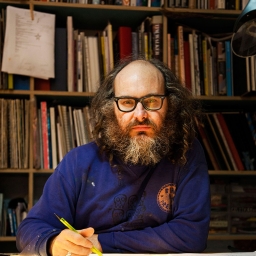 About the Illustrator
Rob Ryan was born in Cyprus. He studied Fine Art at Trent Polytechnic and at the Royal College of Art in London where he specialised in Printmaking. Rob has exhibited widely across the UK and internationally and has written and illustrated several books This Is For You, A Sky Full Of Kindness and a trilogy of children's books. He lives and works in London, UK.
Photo by Hugh Kelly ©
Featured books by Rob Ryan

11+ readers
13+ readers
YA readers
This captivating collection comprises intensely poignant profiles of people and places; of domestic life and wild landscapes, especially Scotland's "dark and stormy waters", with flashes of crimson running through the poems in the form of fire, a fox, red shoes, a red balloon. Among the cast of memorable characters is Mrs Dungeon Brae, terrifying in both life and death, and The Knitter, who "knits to keep death away" and urgently recounts big life occasions knitting has accompanied her through, all the while "casting on, casting off". Then there's the grandmother lamenting the fact that "it's no like the past for grannies these days...nobody knows how to make a conversation/ let alone make a home-made meal or a fresh baked scone." Brimming with humanity - with love, anger, frustration and flashes of humour - this engaging, accessible anthology makes a richly rewarding gift for language lovers of all ages.

7+ readers
Shortlisted for the 2012 Kate Greenaway Medal. The Judges said: The beautiful illustrations are not just decorative, they interpret the text for us and strengthen the story's impact. The frames and shadows perfectly reflect the fairy tale feel and the different emblems and details emphasise the message. A perfect depiction of the circle of life. --------- The exceptional talents of Carol Ann Duffy and papercut artist Rob Ryan combine to present the story of a girl's journey through life and the desires that shape it. With a kind of magic that is timeless, The Gift speaks to everyone who wonders about the mysteries that lie at the heart of the human experience. A unique gift book for all ages by Poet Laureate Carol Ann Duffy This lyrical text about life, love and art is accompanied by stunning papercut illustrations. The Gift portrays the cycle of life in a subtle, accessible way while exploring themes of birth, death, love and the importance of family and friends.
Other books by Rob Ryan

In a gorgeous pocket-sized hardback, Another Night Before Christmas is Carol Ann Duffy's magical contemporary reworking of the famous poem by Clement C. Moore. Beautifully presented, this wonderful festive poem, illustrated with Rob Ryan's paper cut artwork, is the perfect Christmas gift. On the night before Christmas, A child in a house, As the whole family slept, Behaved just like a mouse . . . It's the night before Christmas and a young girl creeps down the stairs, determined to find out for certain whether Santa is real . . . But try as she might, she can't keep awake and is soon fast asleep. She doesn't stir, even when Santa and his reindeer land on her roof-top - but then, when he bursts out of her fireplace, she wakes to a room filled with magic. As she watches him fly off into the night, she knows that she will never forget this sight because, at Christmas, the best gift of all is belief.
CHECK OUT OUR INDIE AND SELF PUBLISHED BOOK REVIEW AND PROMOTION SERVICE
Read More
×