Bernardo P. Carvalho - Illustrator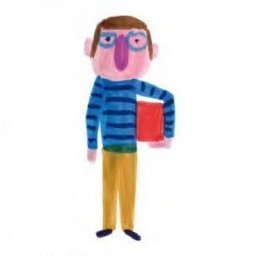 About the Illustrator
Bernardo P. Carvalho was born in Lisbon, where he both studied fine arts and design. He co-founded the publisher Planeta Tangerina with Isabel Minhós Martins, which won Best European Children's Publisher at the Bologna Book Fair in 2013 (the same year Gecko Press won for Oceania!). Bernardo and Isabel have produced books together and independently, and both have won numerous awards in design, illustration, and picture books.
Featured books by Bernardo P. Carvalho

5+ readers
Never too young to learn the importance of political actions .This striking book is all about standing up to those in power and peacefully creating change.
Other books by Bernardo P. Carvalho

What are stars made of? Why is the ocean blue? How are rainbows created? Whether you live in the country or the city, nature is still all around you, so what are we waiting for? It's time to jump off the couch and discover the world that awaits you on your doorstep. Learn about the formation of the Earth, how the weather works, and what causes volcanoes and earthquakes with this comprehensive book, created in collaboration with a team of experts. Suggestions for activities and many illustrations to help the whole family get started, leave the house, and go out to discover - or simply admire - the amazing world that exists outside.
Illustrator Info
Twitter Updates
If this is your illustrator page then you can share your Twitter updates with your readers right here on LoveReading4Kids
Find out more
Facebook Updates
If this is your illustrator page then you can share your Facebook updates with your readers right here on LoveReading4Kids
Find out more
CHECK OUT OUR INDIE AND SELF PUBLISHED BOOK REVIEW AND PROMOTION SERVICE
Read More
×