Matt Hunt - Illustrator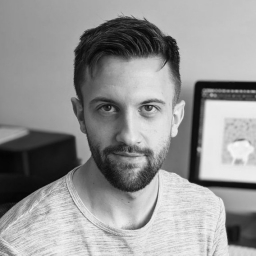 About the Illustrator
Matt was born in Redditch, Worcestershire in 1988. Starting out as a fine artist, he graduated from the Birmingham School of Art, and from these roots, developed a love for children's illustration. He currently shares a house with his wife Hayley and two cats. Matt
works in mixed media, utilising paint, pens, crayons, and digital. He loves to create new and interesting characters and write stories for them. He's influenced by old movies, classic illustration, cartoons and books.
Featured books by Matt Hunt

Baby and Toddler
3+ readers
A Julia Eccleshare Pick of the Month February 2020 | | A fabulous story with a great comic twist at the end! Everyday Tom goes up the hill behind his fishing village home to look out for pirate ships. As soon as he sees one he shouts out a huge warning and everyone rushes to hide! But Tom isn't very sure what a pirate ship looks like. After several false alarms which lead to everyone diving into uncomfortable hiding places all the villagers stop taking any notice of Tom's warnings. So what happens when the pirates really do arrive? Great illustrations match this story perfectly.

5+ readers
7+ readers
With stylish and quirky illustrations and extra facts at the back, this empowering series celebrates the important life stories of wonderful people of the world. From designers and artists to scientists, all of them went on to achieve incredible things, yet all of them began life as a little child with a dream. These books make the lives of these role models accessible for children, providing a powerful message to inspire the next generation of outstanding people who will change the world! Little People, Big Dreams series include: Ada Lovelace Agatha Christie Amelia Earhart Anne Frank Audrey Hepburn Coco Chanel Ella Fitzgerald Emmeline Pankhurst Frida Kahlo Georgia O'Keeffe Harriet Tubman Jane Austen Jane Goodall Josephine Baker Lucy Maud Montgomery Maria Montesorri Marie Curie Maya Angelou Mother Teresa Muhammed Ali Rosa Parks Simone de Beauvoir Stephen Hawking Vivienne Westwood We have a special category for the Little People, Big Dreams series. Click here to view them all.

3+ readers
In a neat bit of role reversal, Cinderella becomes Cinderfella, the ugly sisters are lazy big brothers, and the prince is a junior Karate champion called Kayleigh. Other than that, the action sticks closely to the story we know and love: put-upon Cinderfella finds his invitation to Kayleigh's party and sneaks there disguised in a pair of his brothers' cool sunglasses. Kayleigh and he have a great time dancing until he has to dash home when the clock chimes (8), dropping the glasses in the process. Kayleigh finds him of course and they dance happily into the sunset. It's very entertaining with a real energy and freshness. Children will feel the unfairness of Cinderfella's situation and want to talk about that, while the illustrations are full of amusing details. ~ Andrea Reece
Twitter Updates
If this is your illustrator page then you can share your Twitter updates with your readers right here on LoveReading4Kids
Find out more
Facebook Updates
If this is your illustrator page then you can share your Facebook updates with your readers right here on LoveReading4Kids
Find out more
CHECK OUT OUR INDIE AND SELF PUBLISHED BOOK REVIEW AND PROMOTION SERVICE
Read More
×