Chelen Ecija - Illustrator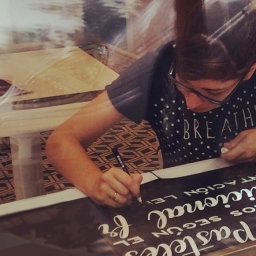 About the Illustrator
Chelen is an illustrator and a lettering artist based in Madrid, Spain. Painting and lettering are her passions and playing with letterpress type is her hobby. She is also addicted to travelling, eating sunflower seeds and buying new books. She has worked for numerous publishers including Penguin Random House, Scholastic and Hachette.
Featured books by Chelen Ecija

9+ readers
11+ readers
The Sky at Night presenter Dr Maggie Aderin-Pocock was bitten by the space bug as a kid and does an excellent job of passing on her passion in this inspiring book. She encourages us to copy Einstein in his 'thought experiments' and follow her on an imagined journey through space to the very edge of the Solar System. The book features amazing NASA photos alongside full colour illustrations and is packed with up-to-date information presented in blocks of text or via charts and diagrams. It does exactly what books like this should: answering all the questions readers will have, while inspiring them to future journeys of discovery.
Other books by Chelen Ecija

Collins Big Cat supports every primary child on their reading journey from phonics to fluency. Top authors and illustrators have created fiction and non-fiction books that children love to read. Book banded for guided and independent reading, there are reading notes in the back, comprehensive teaching and assessment support and ebooks available. Nobody at Puggle School would ever believe Katy's phobia. Some of her friends are scared of spiders. Some of them are scared of snakes. But no-one is scared of a kitten! Katy can't even think about a kitten without breaking out in goose bumps. It would be OK if only her best friend hadn't invited Katy to come and play after school... and meet Fluffy! How can Katy get over her fear? Will everyone think she's totally weird if she tells them? Perhaps she'd be surprised by the fears they have if she ever did ... This story about overcoming fears is written by Ali Sparkes. White Plus/Band 10+ books provide challenging plots and vocabulary as well as opportunities to practise inference, prediction and reading stamina. Pages 46 and 47 allow children to re-visit the content of the book, supporting comprehension skills, vocabulary development and recall. Ideas for reading in the back of the book provide practical support and stimulating activities.

This bumper puzzle book is packed full of out-of-this world challenges, from fiendish mazes and colouring in reveals to stellar dot-to-dot puzzles. Get ready for launch and blast off into space with Star Quest, the third title in the extremely challenging Puzzle Masters series. This bumper puzzle book is packed full of out-of-this world challenges, from fiendish mazes and colouring in reveals to stellar 'dot-to-dot' puzzles. With cryptic clues and fun facts added in, there's also lots to learn about our nearest solar neighbours and the far reaches of the universe. Discover amazing astronauts, the inspiring International Space Station, and gigantic galaxies far, far away. Put your puzzle skills to the test and don't forget to time yourself, too. Compare times with friends and rivals to discover who is the greatest Puzzle Master in the universe!
CHECK OUT OUR INDIE AND SELF PUBLISHED BOOK REVIEW AND PROMOTION SERVICE
Read More
×