Margarita Surnaite - Illustrator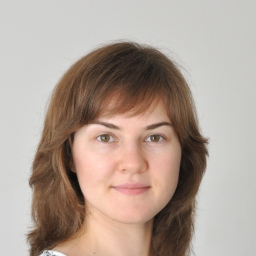 About the Illustrator
Margarita was born and raised in Lithuania. She graduated from the MA Children's Book Illustration course at Cambridge School of Art with a Distinction in 2015. Margarita's work is often influenced by her observations and personal experiences. She works mainly digitally, however, she likes to explore different media and techniques. Margarita lives and works in Cambridge.
Featured books by Margarita Surnaite

3+ readers
Mia finds her little brother Jim really irritating. He follows her round, takes her things, embarrasses her in front of her friends. Then, during an argument, she accidentally throws his much-loved toy Rabbit onto the roof. Upset and guilty, Mia runs off to hide, not noticing that she's been followed by two colourful, cheeky, and very friendly little creatures. She names them Miffkins and discovers Jim has been found by one too. Together, the Miffkins help rescue Rabbit, but more than that, they bring sister and brother together again. The story is very appealing, the Miffkins are very sweet indeed, and the message is delivered subtly and with real charm. A lovely book for families to share.

Baby and Toddler
3+ readers
March 2020 Debut of the Month | Margarita Surnaite's story can be read on different levels, but everyone will fall for her central character, Henry. Little Henry is the only one in his family, indeed in the whole of Rabbit Town, who doesn't love books. Significantly though, it's a book that leads him into an adventure. Finding a lost book, he tries to return it to its owner and arrives in a very different place – a big, grey city filled with busy grown-ups none of whom notice the little rabbit standing beside them. He makes friends with a little girl though, and they have lots of fun before Henry returns home, giving her the book as a parting gift. When she opens it that night, she finds the story it tells is hers and Henry's, while he's at home telling his family all about his adventure. An intriguing book about the power of stories, and the importance of keeping your eyes open, beautifully and sensitively illustrated.
Facebook Updates
If this is your illustrator page then you can share your Facebook updates with your readers right here on LoveReading4Kids
Find out more
CHECK OUT OUR INDIE AND SELF PUBLISHED BOOK REVIEW AND PROMOTION SERVICE
Read More
×