Olaf Hajek - Illustrator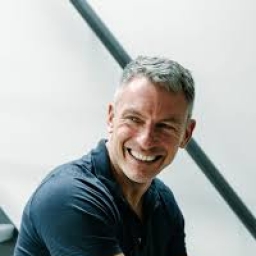 About the Illustrator
OLAF HAJEK's illustrations have been featured in publications like The Financial Times, The New Yorker, Rolling Stone, The Wall Street Journal, The New York Times, GQ and Architectural Digest. His personal work has been exhibited in solo exhibitions in Hamburg, Munich, Berlin, Atlanta, Cape Town and London. He lives in Berlin, Germany.
Featured books by Olaf Hajek

7+ readers
9+ readers
A Julia Eccleshare Pick of the Month March 2021 | Filled with curious and intriguing illustrations and with an original text filled with unusual and fascinating facts, this handsome, large format picture book takes a completely new look at vegetables. Accompanying each vegetable, or sometimes a pair of vegetables as with a carrot and a parsnip which are similar although they are described as 'an odd couple', there is an elegant text telling something of the history of how each one comes to be on our tables, something of how each one grows and something about the traditions about how we eat them. The delights in this book are perfect for sharing for all ages.

9+ readers
11+ readers
Read this book and you will see flowers with quite different eyes. That's its intention, as laid out in the introduction, and one it achieves quite brilliantly. Seventeen flowers are featured, most familiar to us all (dandelion, thistle, poppy, marigold), full colour, full page illustrations opposite a page of text. The text gives us size and appearance, where the plant grows, but also includes bits of history and folklore plus information on medicinal properties and how the plant has been used to heal over the centuries. Fascinating stuff, and you get a strong sense of the author's expertise and enthusiasm. The illustrations are just as special, stylized, folk-art inspired images of the flowers with figures or birds and insects. Beautiful and mind-expanding.
Twitter Updates
If this is your illustrator page then you can share your Twitter updates with your readers right here on LoveReading4Kids
Find out more
CHECK OUT OUR INDIE AND SELF PUBLISHED BOOK REVIEW AND PROMOTION SERVICE
Read More
×