Moose Allain - Illustrator

About the Illustrator
Moose Allain's cartoons feature regularly in Private Eye and The Literary Review, and his prolific humorous Tweets have won him fans worldwide.
Photo credit: Steve Haywood
Featured books by Moose Allain

9+ readers
11+ readers
13+ readers
September 2020 Book of the Month | Less than one year ago, until November 2019 in fact, SARS-CoV-2 coronavirus hadn't infected a single person and was completely unknown to nearly all of us. Now it has changed our whole world, yet most of us still have only a hazy idea of what viruses are, which is where this brilliant little book comes in. The Virus tells you everything there is to know about viruses including of course COVID-19. It explains what viruses are, what they look like and do, why they are so successful at making us ill, what we can do to combat them, and why some of them actually help us. If this sounds a bit technical or heavy going, think again: it's fascinating stuff and presented in a way that makes it really easy to read and understand. The story of coronavirus as told here is an adventure, full of heroes and villains, facts and figures that will stop you in your tracks, and some good jokes too. I can't think of a more interesting or relevant book for our times – everyone needs to read this! If you're interested in science you can find many similar titles in our Best Non-Fiction collection.
Other books by Moose Allain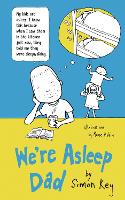 'My kids are asleep. I know this because a paper airplane has just smashed against my head & on the wing someone has written we're asleep Dad . 'My kids have done their homework. I know this because according to them, this week their homework is to play 3 hours of Minecraft each night'. 'My kids are ready to go out. I know this because they've hidden all their clothes...' In recent times, we've celebrated 'unmumsy' mums, but what about desperate dads? We're Asleep, Dad is a collection of 100 laugh-out-loud tweets from a dad's perspective on the five main struggles of parenting: Bed Time, School, Food, Going Out and Weekends complete with quirky hand-drawn illustrations by Moose Allain. In this hilarious and stylish gift book, Simon Key perfectly captures all the ups and downs of what it's like to be a frazzled father on the front line.

If you haven't yet met Archie the Alpaca now's your chance. Prolific writer, social observer, grassiccino drinker, occasional dancer and loyal friend, Archie sees the world like no-one else. Gathered here are his thoughts, feelings, loves, hates and everything in between. From his remarks on the volume of phone conversations to friendship with cats, tributes to great art and artists, and the joy of being Salvador Dali, his diary will teach you to think about everything you know just a little bit differently.
Facebook Updates
If this is your illustrator page then you can share your Facebook updates with your readers right here on LoveReading4Kids
Find out more
CHECK OUT OUR INDIE AND SELF PUBLISHED BOOK REVIEW AND PROMOTION SERVICE
Read More
×