Katie Cottle - Illustrator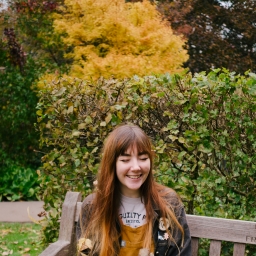 About the Illustrator
Katie is an illustrator and print-maker living and working in Bristol, UK. Her work is often informed by the marks and colours created through traditional lithography. She also works digitally, using an iPad, and occasionally paints with gouache.
Katie won the Batsford Prize for Children's Book Illustration. She has also received the 'Highly Commended' accolade at the Macmillan Prize for Illustration on numerous occasions. She received a 'One to Watch' award at D&AD New Blood in 2017.
Featured books by Katie Cottle

5+ readers
7+ readers
With a simple narrative and eye-catching spreads, this picture book delivers a powerful and timely message. Meera and her mum are enjoying a day at the seaside, when suddenly a giant approaches them – a huge, blue giant that comes out of the sea and is actually a wave. It has a message from the ocean: 'We need your help.' Sailing out, mother and daughter find the sea is full of rubbish and start to clear up. Next day, Meera goes back to the beach and piles up as much litter as she can. Friends join in, and friends of friends, and when everybody helps out: 'even the biggest messes can be fixed.' The final pages make suggestions for ways we can all cut down on plastic and while the story doesn't dodge the size of the problem we face, it does provide hope and encouragement. With its rich, painterly seaside and deep-sea scenes, this is very beautiful, and very memorable. For more books with an eco theme visit our Green Reads collection

5+ readers
7+ readers
Winner of the Batsford prize for children's book illustration | A beautifully illustrated love letter to the natural world. The story carries a subtle warning about our increasing obsession with digital gadgets and resulting disconnect from the world around us, with a gentle, encouraging message for readers to take care of their environment.
Facebook Updates
If this is your illustrator page then you can share your Facebook updates with your readers right here on LoveReading4Kids
Find out more
NEW INDIE AND SELF PUBLISHED BOOK REVIEW AND PROMOTION SERVICE LAUNCHED!
Read More
×