Buy from our bookstore and 25% of the cover price will be given to a school of your choice to buy more books.
The Missing Bookshop Reader Reviews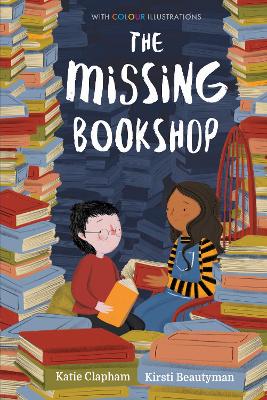 I really loved this book and all the illustrations, I would feel like Milly if this happened to my favourite bookshop.
This is a story all about a little girl called Millie and her favourite bookshop called Mrs Mintys bookshop.
Millie goes there all the time and has done since she was very little. Most of the books on her own bookshelves have come from Mrs Minty's bookshop.
Her favourite part of going through is storytime when Mrs Minty sits in her creaky old rocking chair and reads the children wonderful stories from the books on the shelf. I like storytimes too.
One day Millie notices it isn't just Mrs Mintys chair that is getting a bit old and creaky but Mrs Minty is too. Millie wants to help her because she loves her so much, but when they go back the next day the shop is closed.
A lovely little book for anyone who loves books and takes pleasure in visiting book shops.
This is a lovely little book for anyone who loves books and takes pleasure in visiting book shops (as we do!)
It's also a touching story about ageing and the power of community.
I loved the Missing Bookshop. I panicked that the shop had been closed and was very glad that it had a happy ending. I would give this book 9 out of 10.
The missing bookshop is a heart-warming tale of community love and how people come together to show they love each other.
My 6-year-old daughter read this book on her own and loved telling us all about Milly and her visits to the book shop.
I would recommend this book to all younger readers as its fun, friendly and has a happy ending.
This is a super tale that helps to foster a love of reading for children and grown ups alike. It also delivers a strong message, that no matter how small you are, you can always make a huge difference and wonderful things happen! A lovely story for any child who is passionate about reading.
I started reading this story to a lively Reception Class. They quickly became invested in the characters, especially the lovely little Milly and the intriguing Mrs Minty! The story is beautifully written with some great descriptive language that helps to bring the tale alive. When I stopped reading part way through the story, the whole class let out a big groan of disappointment! The following day, the children were eager to find out what would happen next. In fact, they were so enthralled, we finished the rest of the story! This is a super tale that helps to foster a love of reading for children and grown-ups alike.
Full of lovely colour illustrations, 'The Missing Bookshop' is a heart warming story, perfect for book lovers everywhere!
Milly never misses a story time at Minty's Bookshop. The owner, Mrs Minty, might be a bit creaky, but she knows about every book in the world and can always find something for Milly to read. Like Mrs Minty, the bookshop is showing signs of age and Milly worries that it might have to shut. To her horror, she arrives one day to find Minty's Bookshop closed and soon it is for sale. But Milly comes up with a plan. Can she save the bookshop?
This is a delightful story about the importance of stories – and the shops that sell them. The value of Mrs Minty and her shop to the local community who no doubt take her for granted until faced with her loss reminds us all of the independent bookshops we all know and love and the booksellers whose invaluable advice keeps us returning.
A lovely, warm-hearted story about how much one person can bring to a community by encouraging a love of reading.
The whole family enjoyed this story about how much a bookshop and the stories inside can help create a community and a love of reading. The illustration style was a perfect marriage for the text.
A lovely story about trying to save the things that you love.
This is a really nice book about a little girl who tries to save her favourite bookshop from closing down. Milly is worried that Mrs Minty (the owner) can't run the shop anymore and her storytimes will stop, and it made me feel sad at this point - I don't want to spoil it for anyone that hasn't read it yet, but there are happy parts to it too and I was really pleased that I got to read the story.