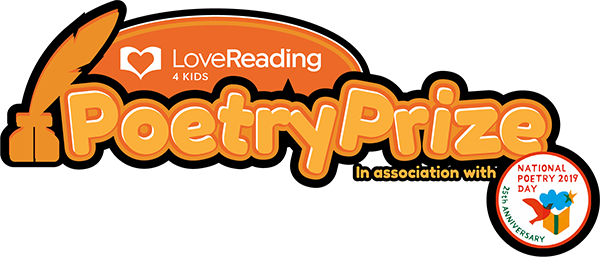 CALLING ALL YOUNG POETS.
WIN A POET VISIT TO YOUR SCHOOL AND £250 OF BOOK VOUCHERS 
LoveReading is thrilled to announce the launch of The LoveReading4Kids Poetry Prize in association with National Poetry Day (3rd October 2019). National Poetry Day is the biggest annual celebration of poetry in the UK, bringing people together to enjoy, discover and share words that matter. With it's backing we are launching a poetry competition for children ages 7- 11 from across the UK inspired by the National Poetry Day theme of Truth. We'd like original poems with the title The Truth about School
The winning poet will win a trophy and certificate, plus a visit to their school from National Poetry Day ambassador and award-winning poet James Carter - and £250 of books for their school. They will also win an annual subscription to the gorgeous magazine Scoop www.scoopthemag.co.uk
The winning and commended poems will also be published on the LoveReading, LoveReading4Kids and LoveReading4Schools websites.
Children, and parents / carers don't delay, you have until the end of your Summer term to enter your poem!
For all you teachers out there, do support your aspiring poets in creating their masterpieces.
The LoveReading team of judges cannot wait to read your creations!
Good luck!
Here are our Terms and Conditions of entry.
KEY DATES
Submissions for the Award will be accepted from 3rd June 2019.
The deadline for submissions is 5.30pm GMT on 17th July 2019.
The Shortlist will be announced on 4th September 2019.
The winning poet will be announced on National Poetry Day 2019 – 3rd October.
WHERE DO I START?
The theme of National Poetry Day 2019 is In Poetry, Truth.
To this end we are inviting you to enter poems about School.
Here is one to inspire you, from one of our fave poets James Carter, who is part of the prize for this year's award. Well not James himself, of course, forever, but James coming to your school for the day to inspire you and your classmates to write more poetry. It's super exciting.
WhatDidYouDoAtSchoolToday?
Nothing.

Nothing?

Well, nothing much.

You did nothing much all day long?

Well . . . alright Mum, if you really want to know,
I had 4 lessons
and 45 minutes of playtime
in which I went around with 3 friends.
For lunch I had 22 baked beans,
2 ½ fishfingers, a 1/4 of a bread roll
and 1 banana.
I fed Nibbles, the class hamster,
2 sunflower seeds.
I wrote 1 poem.
I got 7/10 for a spelling test.
I did 16 fairly tricky maths questions.
And.I learnt 5 very interesting things
about the Ancient Egyptians, including
how they used to remove the brains
of their dead with a hook - MUM.
DO YOU EVER LISTEN TO A WORD I SAY?

Oh sorry darling, what was that?

I said I removed my teacher's brain today!

What? Oh well done, you!
What would you like for tea?
HINTS AND TIPS
We share below some hints and tips that you may find useful to read, before putting pen to paper.
You can write about an imaginary school or your current school.
You can write the poem in the voice of a student, a teacher, a dog or an alien!
You can write in free verse or write a poem with repeated patterns running through it, or one with a strict rhythm and rhyme.
There are no rules except to base your poem around the theme of "In School, Truth" #TheTruthAboutSchool
There are resources and ideas to prompt children's poetry writing on the National Poetry Day website www.nationalpoetryday.co.uk
HOW TO ENTER
We invite poetry from children living in the UK aged 7-11 (on the submission deadline) written in English.
We are looking for exciting, stimulating, original and beautifully written poems that leave a powerful impression on the reader. You can write in any style and in any length.
Individual Entries
Applicants are invited to enter their submissions via the online entry form
https://www.lovereading4kids.co.uk/submit-poem-single-entry
Group Entries
If you are a teacher entering a whole class, click here
https://www.lovereading4kids.co.uk/submit-poem-group-entry
Please note incomplete entry forms and poems not submitted in accordance with the entry instructions will unfortunately not be eligible for consideration.
If you have any questions about this submission process email kids@lovereading.co.uk
THE JUDGING PANEL AND PROCESS
The entries will be judged by our panel. From the entries submitted, the judges will draw up a shortlist of poems, from which they will select the winning entry.
LoveReading reserves the right to increase or reduce the number of entries selected for the longlist and shortlist at their discretion. The judging panel also have the right to call in entries they feel are worthy of entry but have not been submitted.
The judging will be fair and independent. The judges' decision is final and no correspondence will be entered into.
Our judges are: Andrea Reece, Joy Court, Tricia Adams – all LoveReading Expert Reviewers, and they will be joined by James Carter, the prize-winning poet.
Our team of four expert judges will be complemented by a People's Choice award - a unique opportunity for LoveReading4Kids readers to vote for their favourite poem from the shortlist.
THE AWARD
The winning poet will win a trophy and certificate, plus a visit to their school from National Poetry Day ambassador and award-winning poet James Carter,  £250 of books for their school and a subscription to Scoop magazine.
ACCEPTANCE OF TERMS AND CONDITIONS
These guidelines must be read thoroughly to check that the author's work is eligible for submission. Any story submitted is done so on the basis that these Terms and Conditions are accepted.
"Award" means this competition to find the best children's poem which will be called The LoveReading4Kids Poetry Prize 2019. We will also appoint The LoveReading4Kids Poetry Prize – People's Choice Award 2019.
"Entrant" means all poets, parents and / or teachers submitting an entry either personally or on behalf of/ with the consent of a poet.
The poem must be original and entirely the poet's own work.
The poem must be submitted in the poet's own name.
The Award is not open to employees of LoveReading or anyone connected with the Award including direct family members.
All entrants must reside and go to school in the UK.