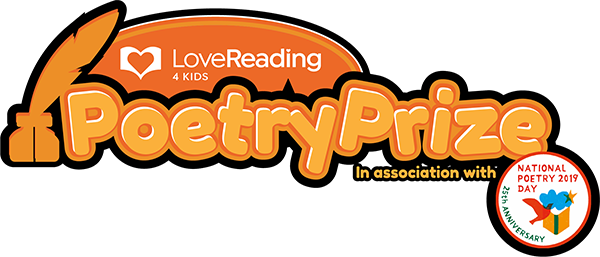 LoveReading4Kids is delighted to announce the winners of the 2019 Poetry Prize in association with National Poetry Day, today 3rd October during the UK's biggest annual celebration of poetry!
What better time to celebrate the creativity of our young poets across the nation and bring people together to enjoy, discover and share words that matter.
Earlier this year, with the backing of National Poetry Day, LoveReading launched this poetry competition for children aged 7- 11 from across the UK inspired by the National Poetry Day theme of Truth.
The winning poet is Edward Pugh, aged 9, of The Dolphin School in Wandsworth with his poem The Truth About School. Edward is awarded a trophy and certificate, plus a visit to his school from National Poetry Day ambassador and award-winning poet James Carter - and £250 of books for Dolphin School. He will also win an annual subscription to the gorgeous children's magazine Scoop www.scoopthemag.co.uk
Take a look at Edward's winning poem below.
We'd also like to announce the well-deserved runner up Elwood Skorjanec, aged 11 of Stationer's Crown Woods Academy in Eltham – a worthy runner up with his poem Reflection, which can also be enjoyed below. Furthermore, the tremendous support of The Dolphin School who entered dozens and dozens of their students into the competition is rewarded with a Highly Commended for Tabitha Bax.
National Poetry Day Manager Andrea Reece commented:
Here at the Forward Arts Foundation we love it when children write poems and had a wonderful time reading the entries to the LoveReading4Kids National Poetry Day competition. The young poets gave us some memorable 'truths' about school life too which we very much enjoyed! There are clearly some very inspiring teachers out there, and congratulations to all the schools who entered. We hope that everyone will write and share their poems on #NationalPoetryDay, 3rd October using #MyNPDPoem.
LoveReading, LoveReading4Kids and LoveReading4Schools are the UK's leading book review and recommendation websites, whose mission is to share book love and promote a love of reading by offering the tools, advice and information needed to help you find your next favourite book.
Forward Arts Foundation is responsible for National Poetry Day on the first Thursday of October. This annual mass celebration, founded by William Sieghart CBE in 1994, brings the nation together around the performance, sharing and making of poems: it is the highpoint of our year-round campaign to raise awareness of poetry's value.
National Poetry Day 2019 is today, Thursday 3rd October: the theme is 'Truth'.
To find out more information email kids@lovereading.co.uk or contact Managing Director Deborah Maclaren at deborah@lovereading.co.uk.
---
Edward Pugh, Age 9
Poetry Prize Winner 2019
The Truth About School
School can be as fun as your 9'th birthday party
School can be as bumpy as a roller coaster
School can be as calm as the Mediterranean sea
School can be as desperate as the desert
School can be as splendid as a ride on a funfair
School can be as isolated as Antarctica
School can be as freestyle as a pop band
School can be a life of friendship
School unlocks doors to the best you can be
School is a world waiting to be explored
---
Elwood Skorjanec, Age 11
Poetry Prize Runner Up 2019
Reflection
I can see me,
reflecting back at me,
is it really me,
it copies me.
My eyes look up and down,
it follows me around,
it follows me about,
it follows me everywhere.
I try to leave me,
but it has trapped me,
let go of me,
because I still see me.
I step back quickly,
it starts to leave,
I look over my shoulder
and I can't believe.
The mirror looks back at me,
still staring at me,
why don't you leave me?
I need to be free.! Me.
---
Tabitha Bax, Age 9
Poetry Prize Highly Commended 2019
The Truth About School
School is like a rushing river,
With its highs, it's lows, it's bends and friends
It's good then it's bad, it's happy then it's sad
It's all part of the rhythm.
There are bumpy parts
With rocks and pebbles traveling their own way
There are calm pools
Where it's easy to flow free and just be me.
With the white water rapids as my tests of talent
And the waterfalls
With their strength and power
Running fiercely, hour after hour.
Eventually, we will reach the ocean
The next chapter of our education
With friends, knowledge and celebrations
We set forth to our new destinations.