Lisa Heathfield - Author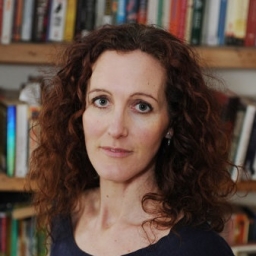 About the Author
Lisa lives in Brighton with her husband and three sons. Before becoming a mum, she was a secondary school English teacher and loved inspiring teenagers to read.

After teaching, she ran a café in Brighton for seven years. In the middle of the general chaos of her lovely children, baking for the café and stumbling through running her own business, she wrote her first novel.
Featured books by Lisa Heathfield

11+ readers
13+ readers
The Traditionals have been voted to lead the country, winning people over with talks of healing a broken society, of stronger families and safer streets. They promised a happier future for everyone. They didn't promise this. When Ruby is swept up with protesters from the opposition, her life is changed forever. Locked in a prison camp far from home and with her belongings taken from her, she's now known by the number 276. With horror escalating in the camp, Ruby knows that she has to get her family out - and let the world know what's happening. Set in the present day, I Am Not A Number is a powerful and timely book for both young adults and adults alike.

YA readers
June's life at home with her stepmother and stepsister is a dark one - and a secret one. Not even her father knows about it. She's trapped like a butterfly in a jar. But then she meets Blister, a boy in the woods. And in him, June recognises the tiniest glimmer of hope that perhaps she can find a way to fly far, far away. But freedom comes at a price... Paper Butterflies is an unforgettable read, perfect for fans of Lisa Williamson's The Art of Being Normal, Jandy Nelson, Sarah Crossan, Jennifer Niven and Louise O'Neill.

13+ readers
YA readers
April 2015 Debut of the Month Fifteen year old Pearl has lived all her life at Seed, a nature-worshipping cult led by a self-imposed father figure, Papa S. Pearl is happy, despite, or maybe because of, her extreme naivety. Contact with the outside world is practically forbidden, those that live at Seed know very little other than what they are told by Papa S – the young people aren't even allowed to know who their real mothers are. The arrival of a new family with a teen boy disrupts the equilibrium, and makes Pearl realise life in the cult may not be the paradise she thought. Narrated by Pearl in the present tense, this is a convincing and disturbing portrayal of life in an oppressive, controlling society, and will prompt readers to think about self-determination, and women's rights. Andrea Reece
Author Info
Facebook Updates
If this is your author page then you can share your Facebook updates with your readers right here on LoveReading
Find out more
CHECK OUT OUR INDIE AND SELF PUBLISHED BOOK REVIEW AND PROMOTION SERVICE
Read More
×