Julia Gray - Author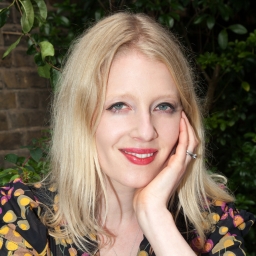 About the Author
Julia Gray is a writer and singer-songwriter. She studied Classics at UCL and has a diploma in Children's Literature and an MA in Creative Writing from Birkbeck, for which she received the Sophie Warne Fellowship. She has released three albums with the trip-hop/jazz collective Second Person, and more recently two solo albums, I Am Not The Night and Robber Bride.
Featured books by Julia Gray

13+ readers
YA readers
Ada Lovelace: Rebel. Genius. Visionary | At once a passionate portrait of a scientifically seminal young woman, and a fascinating account of the lives of well-to-women in the early 19th-century, I Ada lays bare the many faces of Ada Lovelace. Ada the inquisitive. Ada the adventuress. Ada the visionary genius who defied convention to become the world's first computer programmer, the seeds of which are sown in this portrayal of her early life. Driven by drama and a spirit of affection, this is as lively as it is informative. Fathered by flamboyant, notorious Lord Byron, it's perhaps no wonder how easily Ada slips "into the unbordered realms of the imagination" as a child living on her grandparents' country estate. Ada thinks of him often, and wonders why her mother speaks little of him. But then, Ada's relationship with her strict, distant mother is often strained. Ada's flighty tendencies jar with Lady Byron's more rigid intellectual outlook. But they're both inspired by their Grand Tour of Europe - Lady Byron seizes an opportunity to research ideas for her progressive school, while Ada's mind is opened to a world of possibilities. Back in England, Ada's desires are constrained by societal conventions, though female thinkers and mathematicians are among her circle, and then she meets a revolutionary inventor whose work chimes with her own innovative scientific ideas…

13+ readers
YA readers
This story begins in a spiritual retreat. 17 year old Nora is there to recover from an accident and promises readers she will describe the chain of events that brought her there. It will, she says, be a true story, before immediately admitting that she hasn't always told the truth. This is putting it mildly: Nora's whole life is a series of lies and deceptions. She has a library of stories to explain her father's death for example, and in an early incident in the story orchestrates the sacking of a young art teacher. A skilful and convincing liar, Nora has always got what pretty much what she wants. When she meets the Ingram family, a theatrical dynasty, the part in a new film seems within her reach. But in Bel Ingram, wild, reckless and ruthless, has Nora finally met her match? Nora is a fascinating character who will have readers completely in thrall, while her 'true story' is full of shocks and surprises. Intelligent, gripping, highly original.

13+ readers
YA readers
July 2016 Debut of the Month Absolutely compelling. I have to admit to being rather surprised by 'The Otherlife', I think I was expecting a rollicking fantasy adventure, instead a startling, yet subtle and thought provoking read awaited. Either told from the viewpoint of Ben as he is about to take his GCSE's in 2012, or through his classmate Hobie's journal in 2008, The Otherlife focuses on the importance of friendship and a variety of issues such as the pressure of being a teenager and parent's expectations. While Ben copes with pain, both physical and mental, Hobie bulldozes his way through the school year, with few morals, and little thought. Julia Gray sets the Otherlife flickering on the edge of the page, on the knife edge of reality... waiting. As I settled in and felt as though I was beginning to understand, the writing ripped my thoughts apart and set me off on a new path. An intruiging, slicing read, The Otherlife, is also warmly tender and compassionate, and I highly recommend it. ~ Liz Robinson
Twitter Updates
If this is your author page then you can share your Twitter updates with your readers right here on LoveReading
Find out more
CHECK OUT OUR INDIE AND SELF PUBLISHED BOOK REVIEW AND PROMOTION SERVICE
Read More
×