Raman Prinja - Author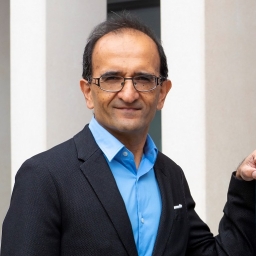 About the Author
RAMAN PRINJA is Professor of Astrophysics at University College London, where he specialises in massive stars, star formation and the evolution of galaxies. He is a multiple winner of UCL faculty and department teaching awards. Raman is keen to bring the subject of astronomy to a wider audience and has written several successful books on the subject, including Night Sky Watcher which was shortlisted for the Royal Society Young People's Book Prize in 2015.
Featured books by Raman Prinja

5+ readers
7+ readers
9+ readers
With the school summer holidays approaching, thoughts turn to activity books and this one will have them dreaming of space even while stuck in the back of the car. There are all sorts of activities and challenges, some based on the solar system, some on our means of discovering it – one particularly lovely spot-the-difference for example features Herschel's telescope, and readers are given the opportunity to design and draw their own telescope and spacecraft. It all looks absolutely gorgeous, no wonder given that the illustrations are by Christopher Wormell, and will keep them occupied for hours while conveying information that will last a lifetime.

7+ readers
9+ readers
Winner of the Royal Society's Young People's Book Prize 2019 | A special edition for junior readers of the superb Planetarium in the Welcome to the Museum series, this book dazzles. It takes readers on a journey into space, explaining clearly and sometimes poetically, where our planet is in the Solar System, how we have found ways to look out across it, and what we have discovered about the universe. Information is conveyed though precise descriptions catching all of the awe-inspiring sense of time and distance, while Christopher Wormell's illustrations are both beautiful and illuminating. Opening with a section on telescopes and observatories, and ending with the end of the universe, via sections on the night sky, stars and galaxies, this really is a book to treasure, and although the text has been adapted for younger readers, it will fascinate those of any age.

7+ readers
9+ readers
The Universe is huge – it stretches further than we could ever imagine or explore, and contains everything in space, from super stars to galaxies to tiny pieces of dust. Packed with facts, diagrams, infographics and photos, this is the perfect introduction to space. Find out how the incredible work of astronauts like Tim Peake, astronomers and scientists have enabled us to discover so much about the universe. Perfect for any young reader who looks up at the night sky and wonders just what goes on out there.
Author Info
Twitter Updates
If this is your author page then you can share your Twitter updates with your readers right here on LoveReading
Find out more
Facebook Updates
If this is your author page then you can share your Facebook updates with your readers right here on LoveReading
Find out more
CHECK OUT OUR INDIE AND SELF PUBLISHED BOOK REVIEW AND PROMOTION SERVICE
Read More
×