Dr. Mike Goldsmith - Author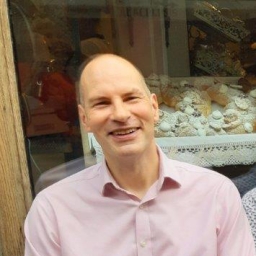 About the Author
Dr Mike Goldsmith is a doctor of astrophysics and is a member of the Royal Astronomical Society. He works as a scientist as well as writing science books for readers ranging in age from toddlers to adults. His books have been published in 25 countries, with two of them shortlisted for the Royal Society Prize for Science Writing.
Featured books by Dr. Mike Goldsmith

9+ readers
11+ readers
Part of the Very Short Introductions for Curious Young Minds series, The Secrets of the Universe tackles big questions in manageable bite-sized chunks. This colourful, compact book can't be beaten on the accessibility front as it answers questions like "what is the universe?", "how big is it?", "what's our place in it?", with "Speak like a Scientist" boxes highlighting key terminology budding scientists will relish adding to their vocabulary. As the book takes us through the history of studying the universe, and explains everything from gravity, galaxies and the lives of stars, to the Big Bang, the infographics, photographs and cartoons make digesting big concepts a tasty delight. And, like all the books in this impressive series, The Secrets of the Universe was created by experts. In this case, the book was written by a doctor of astrophysics in consultation with a Cambridge University cosmologist.

7+ readers
9+ readers
This striking, energetic series of which this is one of the titles, takes a rapid-fire 'look and learn' approach to subjects suitable for children aged 8 and over and each title makes the learning experience really fun. With fascinating topics ranging from Dinosaurs to Art, from Myths to Science, each of these books presents a key subject in a fresh and fascinating format. The subjects in each title are explained in 30-second sound-bites, supported by 3-second flash summaries. And if all that isn't stimulating enough, the 3-minute mini-missions included will further challenge lively young minds. With colourful, original explanatory artwork on every page and text from a range of expert authors, these books are loaded with fun information and fast-track facts.
Author Info
Twitter Updates
If this is your author page then you can share your Twitter updates with your readers right here on LoveReading
Find out more
Facebook Updates
If this is your author page then you can share your Facebook updates with your readers right here on LoveReading
Find out more
CHECK OUT OUR INDIE AND SELF PUBLISHED BOOK REVIEW AND PROMOTION SERVICE
Read More
×