Jon Agee - Author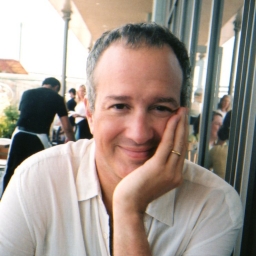 About the Author
Jon Agee went to college at The Cooper Union School of Art in New York City, where he studied painting and film-making. Now a full-time author, he lives in San Francisco with his wife, Audrey.
Jon is the author/illustrator of many acclaimed books for children including It's Only Stanley, a Boston Globe-Horn Book Honor winner. Terrific and Milo's Hat Trick between them have won New York Times Ten Best Illustrated Books, ALA Notable Book, Horn Book Fanfare, PW Best Books of the Year, Book Sense Top Ten Pick and LA Times Best Children's Picture Books Miami Herald Top Ten.
Featured books by Jon Agee

3+ readers
5+ readers
Thanks to Scallywag Press, the wit and wisdom of Jon Agee is becoming more familiar to UK audiences and this delightful picturebook will only add to his growing reputation. The tale is told with characteristically few words and his distinctive black line that outlines the setting and characters, filled with soft-coloured chalk pastel washes. Comical details pepper each spread, whether in the background (for example, a certificate from Harvard School of Claw) or through the expressive faces of the characters. Lions are a popular picturebook character from Ed Vere's How to be a Lion to The Lion Inside by Rachel Bright and so one can see why our young hero might choose to take Lion Lessons rather than violin or karate. Most of the boy's attempts to master the essential characteristics of a ferocious feline, such as speed, agility, the loudest roar, and the ability to pounce, end with less than satisfactory results, "The lion checked my scores. 'This is not very promising.'" The lion's wry expressions and droll criticism: "We do not eat spaghetti", provide lots of laughs for both adult and child readers. Everyone will be rooting for the little boy who channels his inner big cat to save a little kitten from the bully neighbourhood dog, as he triumphs in the last lesson of Looking Out For Your Friends. Another Jon Agee treat to enhance your picturebook collection.

3+ readers
5+ readers
Longlisted for the UKLA Book Awards 2020 | Walls are in the news at the moment, and one runs right down the middle of this book, a sturdy brick one dividing each double page, top to bottom. On one side is a little knight, very cheery in his conviction that his side of the wall is the safe place to be. We readers of course can see what's happening on the other side of the wall and indeed, some of the creatures there don't look very friendly. But appearances aren't everything, and when the little knight discovers his side of the wall isn't as safe as he thought, he might need a helping hand over the top. It's a very funny story, and such a cleverly delivered fable of the silliness and dangers of preconceptions. Don't miss.
Twitter Updates
If this is your author page then you can share your Twitter updates with your readers right here on LoveReading
Find out more
Facebook Updates
If this is your author page then you can share your Facebook updates with your readers right here on LoveReading
Find out more
NEW INDIE AND SELF PUBLISHED BOOK REVIEW AND PROMOTION SERVICE LAUNCHED!
Read More
×