Yuval Zommer - Author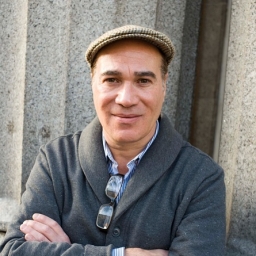 About the Author
Yuval Zommer graduated from London's Royal College of Art with an MA in Illustration. He has worked as a creative director at many leading advertising agencies. Yuval's passion for picture books has now won, and he is the author/illustrator of many highly acclaimed children's books.
Yuval lives and works in an old house in Notting Hill where he overlooks a small garden which is visited by urban foxes, squirrels, birds and many insects, some of which later find their way into his stories. His other favourite places are The Natural History Museum and the Zoo. Yuval has won the Heart of Hawick's Children's Book Award 2015 in the best new picture book category and his work has been nominated for the SLA Information Book Award 2017 and the 2018 CILIP Kate Greenaway Medal.
Featured books by Yuval Zommer

Baby and Toddler
3+ readers
5+ readers
Yuval Zommer's enchanting picture book conjuration of the majesty of the northern lights and Arctic landscape is a seasonal delight that little ones will want to return to time and time again. Both the poetic text and magically stylised illustrations are mesmerising. This is a beautiful book to read aloud to share the wonders of the northern lights, and also a book children will adore poring over in their own time, delighting in the illustrative details while reciting the beguiling text. Much like the lights it describes, Zommer's language dances - it skips off the page and over the tongue. The story is also suffused in a sense of light-through-darkness hope and togetherness. With subtle sparkles on its cover providing additional seasonal appeal, this is an utter joy.

5+ readers
7+ readers
Longlisted for the UKLA Book Awards 2021 | The newest addition to Yuval Zommer's bestselling series answers these questions and more as it introduces young children to all kinds of colourful, carnivorous, weird and wonderful flowering plants from around the world. Readers will enjoy learning about different edible flowers and why flowers are fragrant or colourful, not to mention grisly details about carnivorous and poisonous flowers.

5+ readers
7+ readers
Shortlisted for the UKLA Shortlist Book Awards 2019 | Nominated for the 2019 Kate Greenaway Medal | Take a tour of the oceans in Yuval Zommer's engaging reference book. It guides us through the seas in the company of the living creatures you'd see there, from the sea turtles and rainbow schools of fish in tropical waters, to whales and tuna, shoreline dwellers and the inhabitants of the deepest, darkest waters. Each page is wonderful to look at, and answers the questions children really want to ask: how fast does a flying fish need to swim to launch itself out of the water? Who does an octopus need eight arms? How long can a seal hold its breath underwater? There's information too on the danger to the oceans from pollution and global warming, while a page of 'fishy-phrases' gives children the technical language to use when describing the animals that live in the sea. A book to inspire and entertain as well as inform.
Author Info
Facebook Updates
If this is your author page then you can share your Facebook updates with your readers right here on LoveReading
Find out more
CHECK OUT OUR INDIE AND SELF PUBLISHED BOOK REVIEW AND PROMOTION SERVICE
Read More
×