Samira Ahmed - Author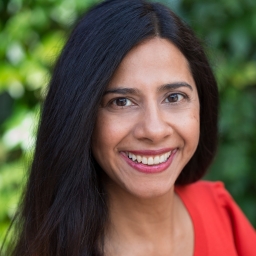 About the Author
Samira Ahmed is the New York Times bestselling and Indies Introduce author of LOVE, HATE & OTHER FILTERS. She was born in Bombay, India, and grew up in Batavia, Illinois, in a house that smelled like fried onions, spices and potpourri. Samira once spent a year searching for the perfect mango, eventually learning that the quest was always about the journey and not merely the destination. She graduated from the University of Chicago and has taught high school English and worked in education non-profits and on political campaigns. These days, she lives and writes in Chicago, every keystroke reminding her that art is resistance.
Featured books by Samira Ahmed

13+ readers
YA readers
It is August in Paris and budding art historian Khayyam should be having the time of her life - but even in the City of Lights she can't stop worrying about the mess she left back home in Chicago. Only when she meets a cute young Parisian - who happens to be a distant relative of the novelist Alexandre Dumas - do things start to get interesting, as she starts to unveil the story of a 19th century Muslim woman whose path may have intersected with Dumas, Eugene Delacroix and Lord Byron. Two hundred years earlier in the Ottoman empire, Leila is the most favoured woman in the Pasha's harem. Her position is meant to be coveted; but she is struggling to survive as she fights to keep her true love hidden from her jealous captor. Echoing across centuries, as Khayyam uncovers the scintillating truth of Leila's long-forgotten life, her own destiny is transformed forever.

YA readers
Set in the United States 'fifteen minutes in the future' this cuttingly timely cautionary tale exposes Islamophobia and bigotry through the injustices inflicted on seventeen-year-old Layla and her resulting fight for freedom. Layla has her sights set on her future when, on one terrifying night, she and her parents are visited by the Exclusion Authority. "Under order of the Exclusion Authority and by the powers vested in the secretary of war under Presidential Order 1455, we are here to serve notice and carry out your relocation," declares one of the suited men. What "relocation" means in this hostile, intolerant society is that Layla and her family are snatched from their home and interned in a camp with fellow Muslim-Americans, their wrists stamped with permanent ID numbers on arrival. The backdrop of book-burnings, curfews, Exclusion Laws and a president who declares, "Muslims are a threat to America" is all too powerfully prescient and evoked in an entirely believable fashion. But while confined in the camp, strong, caustic-tongued Layla orchestrates an uprising against the guards and camp Director. Urgent and intense – much like Layla's acts of resistance – this novel of social justice will chill, grip, start conversations and mobilise readers to speak out against racism and intolerance. In the words of Layla's poet dad, "we have a moral and ethical obligation to tell the truth.
Facebook Updates
If this is your author page then you can share your Facebook updates with your readers right here on LoveReading
Find out more
NEW INDIE AND SELF PUBLISHED BOOK REVIEW AND PROMOTION SERVICE LAUNCHED!
Read More
×