Kit de Waal - Author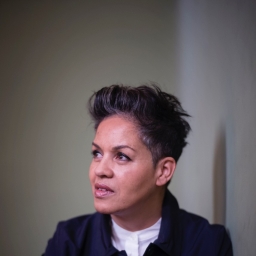 About the Author
Kit de Waal was born in Birmingham to an Irish mother, who was a childminder and foster carer and a Caribbean father. She worked for fifteen years in criminal and family law, was a magistrate for several years and sits on adoption panels. She used to advise Social Services on the care of foster children, and has written training manuals on adoption, foster care and judgecraft for members of the judiciary. Her writing has received numerous awards including the Bridport Flash Fiction Prize 2014 and 2015 and the SI Leeds Literary Reader's C hoice Prize 2014 and the Kerry Group Irish Novel of the Year.
My Name is Leon, her first novel was published in 2016 and shortlisted for the Costa Book Award. She has two children and lives in the West Midlands.
Featured books by Kit de Waal

13+ readers
YA readers
Shortlisted for the Children's Book Award 2020 | August 2019 Debut YA Book of the Month | This unique, incisive novel is an emotionally engrossing road-trip reinvention of Moby Dick with female characters, and a gripping mystery about what main protagonist Dinah is running from to find her place to call home. Seventeen-year-old Dinah has lived her whole life on a commune and now feels compelled to flee everything she's ever known. After being home-schooled, a recent period in mainstream schooling has turned her world upside-down, as has turbulent upheavals at home, and then there's the mystery of what happened between Dinah and new friend Queenie. She shaves off her hair, adopts a new name and flees, illegally driving a VW campervan (her version of Moby Dick's Pequod ship) with a cantankerous one-legged neighbour for company. While driving, Dinah confronts her many demons, most of which stem from her confusing sense of identity. She's mixed race, but feels neither black nor white, and she's attracted to boys and girls. The road is bumpy, with many revelations and confrontations along the way. Eventually, though, Dinah realises that "the road that took you away has led you all the way back home". This is a smartly-crafted novel with real resonance, a story that honestly and empathetically imparts an uplifting message to "Always be yourself first…find yourself and be yourself".
Facebook Updates
If this is your author page then you can share your Facebook updates with your readers right here on LoveReading
Find out more
NEW INDIE AND SELF PUBLISHED BOOK REVIEW AND PROMOTION SERVICE LAUNCHED!
Read More
×