Alastair Chisholm - Author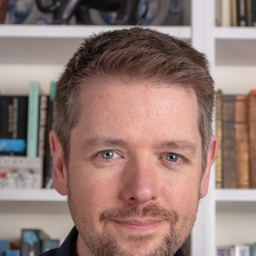 About the Author
Alastair is a children's author and puzzle creator. As a puzzle creator he wrote quite a lot of books of Sudoku and other puzzles for kids and grown-ups, and as an author he writes picture books and middle-grade fiction.
Alastair lives in Edinburgh with his wife (who is lovely), two teenagers (who are lovely but very loud), and a cat named Maudie, who is yowling at him even though there is clearly food in her bowl, look, it's right there, look. His hobbies include writing and playing games on his phone when he should be writing.
Featured books by Alastair Chisholm

9+ readers
The robot Adam-2 has been locked in the basement of a lost building for over two hundred years - until one day he is discovered by two children, and emerges into a world ruined by a civil war between humans and advanced intelligence. Hunted by both sides, Adam discovers that he holds the key to the war, and the power to end it - to destroy one side and save the other. But which side is right? Surrounded by enemies who want to use him, and allies who mistrust him, Adam must decide who - and what - he really is. The LoveReading LitFest invited Alastair to the festival to talk about Adam-2. You can view the event by subscribing to the LitFest programme for as little as £6 per month - or you can pay per view. For just £2, go, see Alastair in conversation with MD Deborah Maclaren and one of our young ambassadors, Jay and find out why every child will love this science fiction story. Check out a preview of the event here.

9+ readers
If you like Star Wars, you'll love Alastair Chisholm's space adventure. The action takes place on board the transport ship Orion as it heads out from Earth to a new colony far away. Reaching their destination requires ship and passengers making a series of Jumps through space and time, and surviving a Jump means entering a state of deep suspended animation. Emerging from one of these, Beth discovers that none of the adults can be woken, and that she is now acting captain with a 'crew' of fellow youngsters. There are tensions between the children, some alarming encounters with aliens and – much more terrifying – space pirates, all made worse when Beth begins to suspect that the ship itself may not have their best interests at heart. It all makes for a terrifically taut and entertaining page-turner, with twists and surprises galore. Don't miss!
Facebook Updates
If this is your author page then you can share your Facebook updates with your readers right here on LoveReading
Find out more
CHECK OUT OUR INDIE AND SELF PUBLISHED BOOK REVIEW AND PROMOTION SERVICE
Read More
×