Daniel Nayeri - Author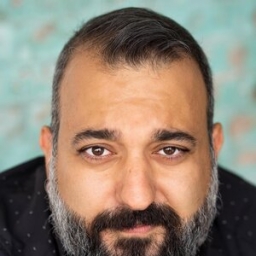 About the Author
Daniel Nayeri was born in Iran and spent a couple of years as a refugee before immigrating to Oklahoma at age eight with his family. He is the publisher of Odd Dot, an imprint of Macmillan, making him one of the youngest publishers in the industry. He has served on the CBC diversity committee and the CBC panel committee.
Featured books by Daniel Nayeri

11+ readers
13+ readers
YA readers
'Every story is the sound of a storyteller begging to stay alive', says Khosrou – or Daniel as he's known to his new classmates in Oklahoma - the narrator of the many wonderful stories that make up this book. Central of course is his own story, how with his mother and sister he had to flee his home in Iran, leaving his father behind, but there are also the stories of his grandparents and great-grandparents, plus the myths that he's grown up with. Horribly picked on at school and tormented at home by his new step-father, he shares his stories Scheherazade-like with his class and with us, the lucky readers, and because of that we know that one day he will be whole again. Poignant, touching, funny and heart-breaking, this is a book in a million, a story that will connect with every person who reads it and become part of their own.
Other books by Daniel Nayeri

The book is a guide to the principles of creative storytelling. It covers the essential elements like conflict, characters and their motivation, dialogue, plot, theme, and, of course, the climax. As you turn the pages, you'll be prompted to roll the story blocks. And that's when the magic starts to happen. The blocks are coded by colour, each loosely associated with a part of speech. A simple exercise about motivation, for example, asks the reader to roll the blocks and find one red block (person or animal) who wanted nothing more in this world than to one green block (action). Depending on the outcome, the reader might end up telling a tale of a cowboy who just wanted to dance or a mummy who wanted to race cars. How to Tell a Story combines the surprising whimsy of Mad Libs with the compelling fun of storytelling cubes. Its prompts and games will have readers mastering the basics of storytelling while exercising their creative muscles. And who knows where that journey will end?
Facebook Updates
If this is your author page then you can share your Facebook updates with your readers right here on LoveReading
Find out more
CHECK OUT OUR INDIE AND SELF PUBLISHED BOOK REVIEW AND PROMOTION SERVICE
Read More
×