Betina Ip - Author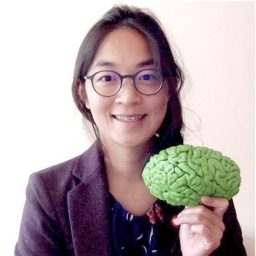 About the Author
Dr Betina Ip, a pracitising neuroscientist who is also an artist, and a parent of two young children.
Featured books by Betina Ip

5+ readers
7+ readers
March 2021 Non-Fiction Book of the Month | The Usborne Book of the Brain (and How it Works) by neuroscientist Betina Ip is a delightful science book aimed at children aged 5+. It takes young readers on a journey inside the human head to see how the brain works and what it does, looking at the main brain cells (neurons) and their connections. It uses simple terms to explain how we see, think, use our senses, feel emotions, form memories, sleep and make decisions. Using age-appropriate practical examples, such as 'How do we decide which ice cream to have?', the book gives young children plenty to talk about with their family, friends and teachers. There are also sections on how to look after your brain and how scientists learn about brains. With its colourful illustrations and packed full of fascinating facts, this book is perfect – and great fun – for inquisitive children (and their parents).
Author Info
Twitter Updates
If this is your author page then you can share your Twitter updates with your readers right here on LoveReading
Find out more
Facebook Updates
If this is your author page then you can share your Facebook updates with your readers right here on LoveReading
Find out more
CHECK OUT OUR INDIE AND SELF PUBLISHED BOOK REVIEW AND PROMOTION SERVICE
Read More
×