Mama Makes Books - Author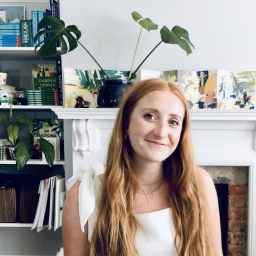 About the Author
Rachael Saunders is an award-winning British illustrator with a passion for character design and storytelling. Her work exudes vibrancy and humour. Rachael is best known for her 'Go Wild' series with Nosy Crow and the National Trust, and 'A Year on Adam's Farm' by Countryfile's Adam Henson.
Featured books by Mama Makes Books

Baby and Toddler
3+ readers
April 2022 Book of the Month | Open the henhouse, what do you see? Four eggs – count them! Four little chicken eggs, four little chicks, plus suddenly one extra. And this little chick goes, 'Quack!'. Fortunately, Mother Hen doesn't mind that one chick is quite different, she loves them all. This sturdy lift-the-flap book will have little children counting away very happily and the simple story is full of fun. With appealing illustrations and a heart-warming message about a mother's love, this is a lovely first reading and first learning experience.

Baby and Toddler
3+ readers
A lift-the-flap opposites book | A story of opposites making friends, this sturdy lift-the-flap counting book will give the very young a positive first reading, first learning experience and especially if they love tractors. Tractor Red is big and new, while Blue is old and small. They work alongside one another all day in the field, but at sunset, Red challenges Blue to a race. It's no contest really and Red zooms off leaving Blue behind. But uh-oh, when Red ends up stuck in the mud, he needs Blue to pull him out. The story is packed with incident, and the illustrations are very appealing. This farm is definitely a fun place to visit!
CHECK OUT OUR INDIE AND SELF PUBLISHED BOOK REVIEW AND PROMOTION SERVICE
Read More
×