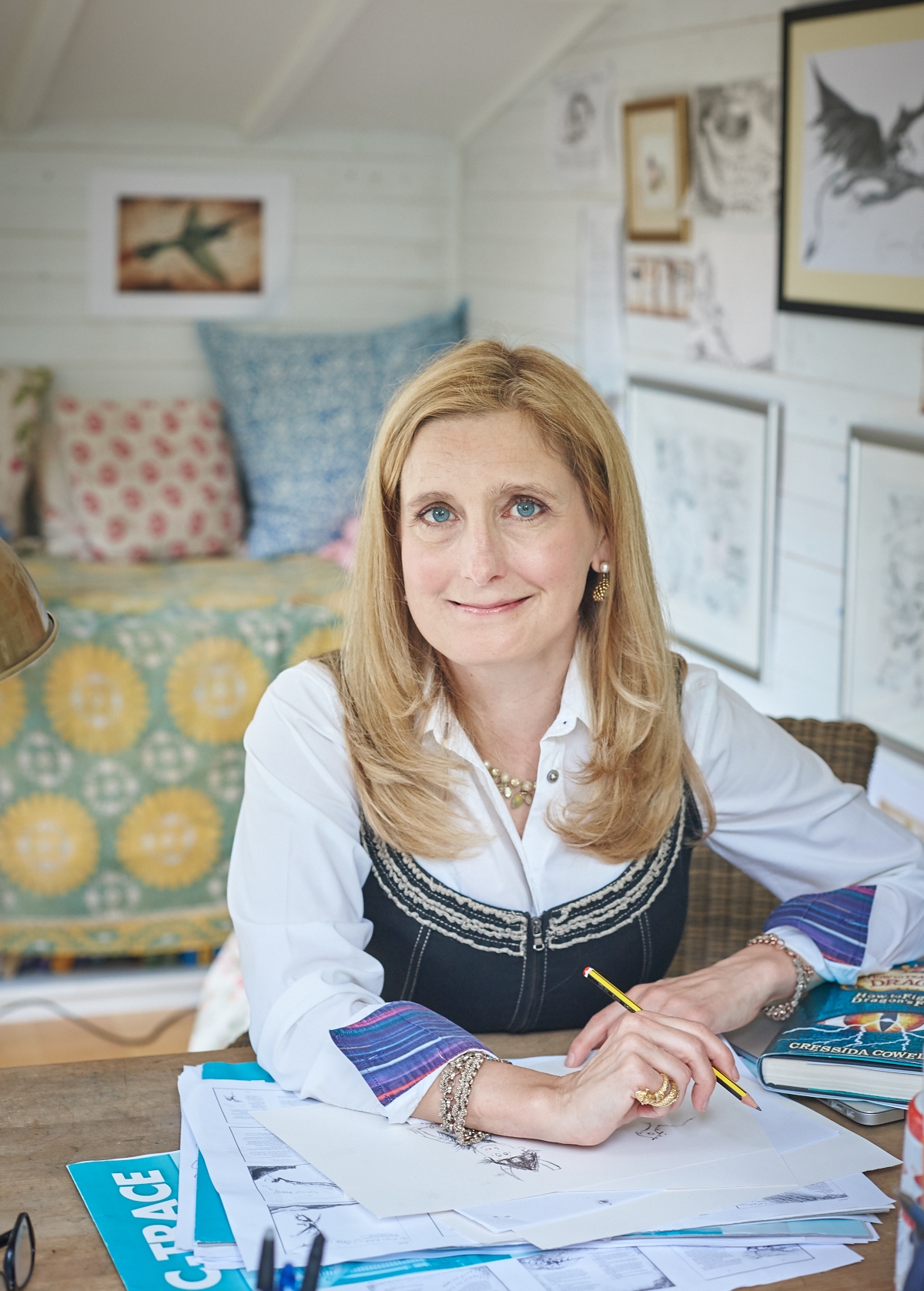 We are delighted to have Cressida Cowell, the current Waterstones Children's Laureate join us as the LoveReading4Kids Guest Editor of the Month this May. The Children's Laureate is awarded to an eminent author or illustrator every two years to celebrate an outstanding achievement to children's literature; a requisite Cressida unequivocally fulfills.
She has created the most wonderful characters in Emily Brown and her bunny wunny Stanley; the How To Train Your Dragon Series is a triumph that has translated perfectly to the screen; and her newest magical series The Wizards of Once…
Cressida's aim as Waterstones Children's Laureate is to encourage EVERY child to read for fun, to have access to books and have a planet to read on - something that is essential in our current circumstances. To read for the sheer joy of it is a mission which we absolutely share at LoveReading and so we are thrilled to have the opportunity to chat with Cressida, work with her to encourage reading for pleasure, give support to every child on their reading journey and create lifelong readers in our children.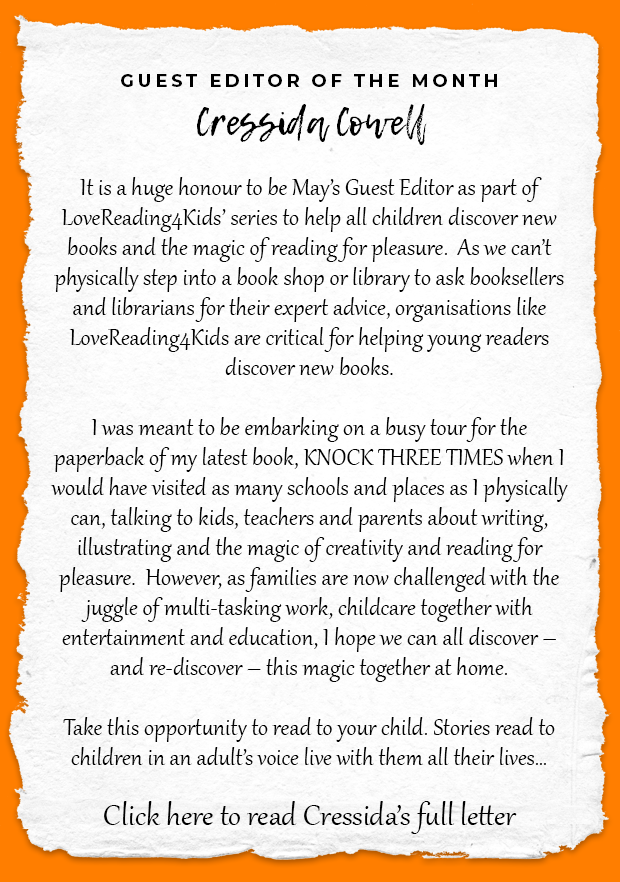 Tell us when you first knew you wanted to be a writer.
I have been writing stories since I was about eight or nine years old. When I was a child my handwriting was terrible, my spelling was incomprehensible but I loved writing stories… Aged nine I entered a writing competition which, to my amazement, crowned me the winner! It gave me the confidence to think, 'I could be a writer one day'.
But I was about 33 when I had my first book published: it was a picture book called' Little Bo Peep's Library Book'.
Please tell us about your island off the west coast of Scotland. It sounds idyllic! Do you think it helped inspire your creativity and your Dragon and Wizard worlds?
Those summer holidays spent on the tiny, uninhabited island were undoubtedly the inspiration for my How To Train Your Dragon books and for my creativity. When I was four, my family would be dropped off like castaways on the island by a local boatman and picked up again two weeks later. In those days there were no mobile phones, so we had absolutely no way of contacting the outside world during that time. If something went wrong, we just had to sit tight and hope that the boat really did come to pick us up.
I was a bit more of a worrier than my parents and so even as a four year old I thought they were completely crazy.
I thought they were even crazier when they got a boat, because my father was a very confident sailor but he didn't really know what he was doing. He was clueless but bossy. There was something glorious about the dignified way my father barked out orders while heading us straight into a Force Eight gale, or hitting a rock, or accidentally tying the boat to a lobster pot instead of a buoy.
This was what gave me the idea for the characters of Hiccup and his father Stoick.
By the time I was eight, my family had built a small stone house on the island, and my father got a boat, so we could fish for enough food to feed the family for the whole summer.
From then on, every year we spent four weeks of the summer and two weeks of the spring on the island. The house was lit by candle-light, and there was no telephone or television, so I spent a lot of time drawing and writing stories. In the evening, my father told us tales of the Vikings who invaded this island Archipelago twelve hundred years before, of the quarrelsome Tribes who fought and tricked each other, and of the legends of dragons who were supposed to live in the caves in the cliffs.
That was when I first started writing stories about dragons and Vikings, way back when I was nine or ten years old.
Can you share any winning hints and tips that will help inspire our budding writers?
Read lots. Don't worry about your spelling, your grammar, or your handwriting. Don't even worry about finishing. Just write.
As well as the 12 original books the series has been made into a TV and film series, how did you feel when you were approached about the film adaptations?
Dreamworks Animation approached my agent and it was very much out of the blue and a surprise. The book was published in America but it was a British book so I wasn't really expecting any film interest. I had a bit of movie and television interest, which I had turned down, but, particularly if you're writing something, and if it's based on something that's very close to your heart like these books were, it isn't completely easy to have it optioned. It needed to be something rather special to make it worth the risk and I thought they were very interesting, so I took that risk.
How involved were you in the films and were you happy with the outcomes?
I've been extraordinarily lucky to have the same team at DreamWorks making the entire trilogy of movies with Dean DeBlois (the screenwriter/director) and Bonnie Arnold (the producer) making absolutely sure that movies two and three were as good as the original.
All three movies are absolutely stunning, with, quite literally, the best animation I have ever seen.
Have you got a favourite character of all you have created. It's a difficult choice but we love Emily Brown and THAT bunny - we read it again and again and again…
Hiccup would have to be my favourite. There's definitely part of me in him- like Hiccup I had a dad who was a bit different to me and that can be tricky sometimes. There's also a bit of my husband, who doesn't put himself forward as Mr Important, but in fact he is full of clever ideas and very calm in a crisis. (I, on the other hand, am a bit of a show-off and in a crisis situation I tend to panic and run around in circles.) He's also chatty like my two daughters.
I love Emily too, of course. Emily is an energetic, positive and kind person. She's also a very strong girl hero, which is something we need more of.
You have always been an advocate for children's reading, what do you think is so wonderful about books?
Books possess a transformative magic because of their unique ability to develop three key magical powers, INTELLIGENCE, CREATIVITY, and EMPATHY. Books are wonderful at developing empathy because while things on a screen happen 'out there', in a book they are happening inside your head, it's like walking around in somebody else's skin, to quote To Kill a Mockingbird.
And yet we have a huge interconnected problem in the UK. Libraries and bookshops are closing, librarians are disappearing, telly is glorious, review space is shrinking, parents are knackered, the kids are on the Nintendo switch... The magic of books is becoming harder to access, which is having a knock-on effect on social mobility and on creativity.
Britain needs creative kids – creativity is so important both to an individual's achievement and to the UK economy. Our creative industries make £101.5 billion a year and are growing twice as fast as the rest of the economy. We must encourage the next generation to continue this strength. Whatever path they choose in life, creative thinking is invaluable – problem-solving, innovative ideas, and dealing with new challenges are skills that children can begin learning at an early age with nothing more than a notebook and a pencil.
As the current Children's Laureate you've had the incredibly important job of championing children's literature since 2019 and your current tenure has just been extended, what are you most proud of during your time in the role?
I'm proud that so many people have rallied around my Waterstones Children's Laureate Charter, which has taken on a life of its own.
As so much of the Laureate role is about championing others, I want to mention that I'm proud on behalf of the whole book world that we have responded so proactively to the many challenges we've had over the last month. As you might have seen my open letter, I believe in the resilience in books, and of children themselves. Writing for children is the greatest privilege on earth, and being part of the children's book world is energising. From online story times to home schooling resources and bookshops delivering to their communities, everyone is uniting together to ensure kids have access to books.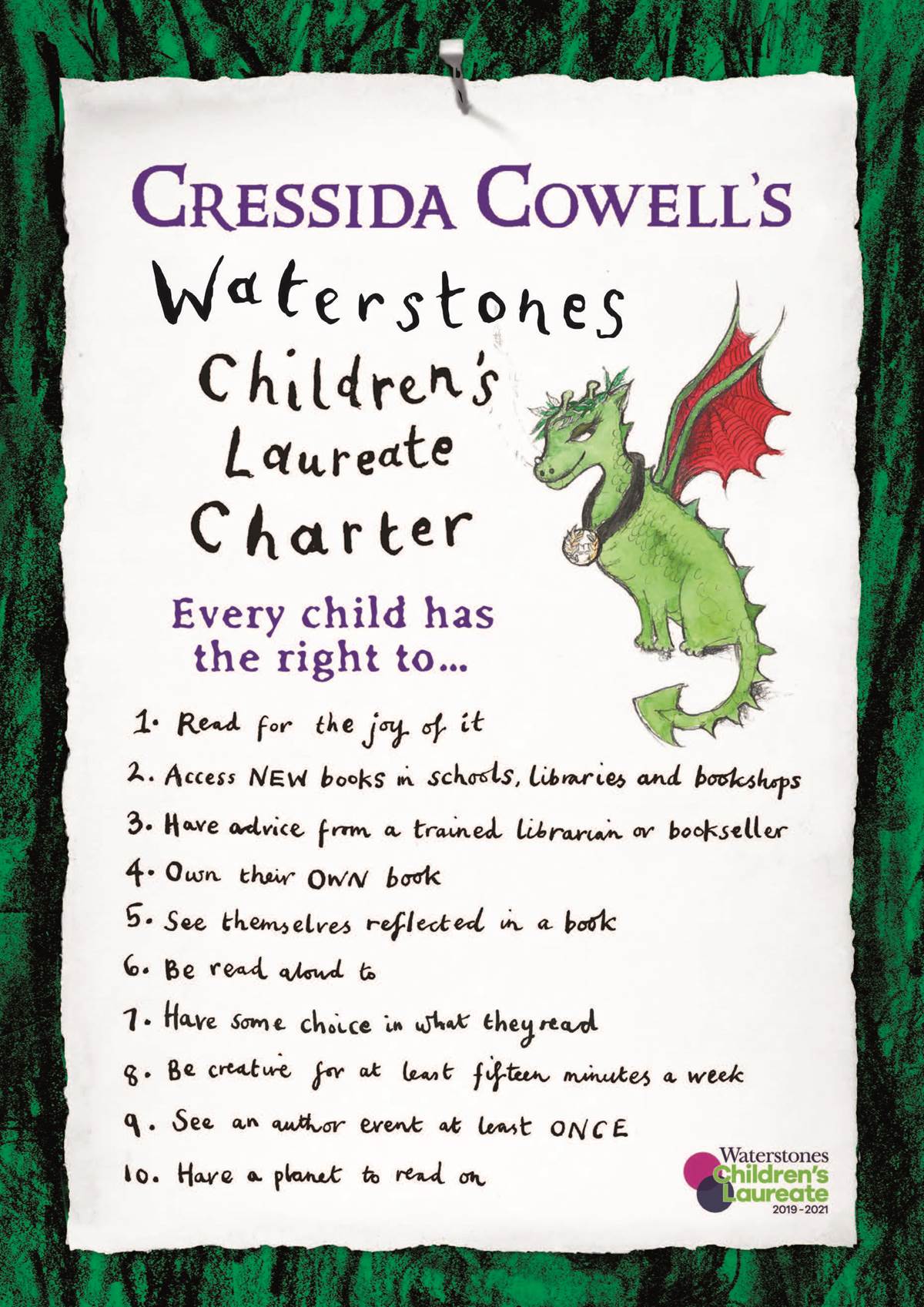 And what's still to come, what are you excited about in your magical to do list?
We are very busy at the moment, working behind the scenes on two big projects. Watch this space…
Finally, do let us know when we can expect another book for us to savour! What's next?
Book three in my Wizards of Once series, Knock Three Times publishes in paperback on 14th May. In September, the fourth and final book in the series will publish. It's called Never and Forever and I will be very sad to say goodbye to this Wizard world.
As our Guest Editor, Cressida has chosen five brilliant children's books to recommend to all our readers - and given us a bonus book choice for May. Find all her choices here.