LoveReading View on A Horrid Factbook: Horrid Henry's Ghosts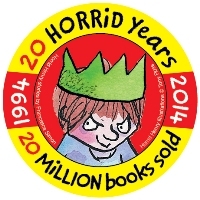 Welcome to the weird and wonderful, hilarious and horrid guide to everything a Horrid Henry fan has ever wanted to know about … GHOSTS!
Terrify your family and amaze your friends with your nasty new knowledge on not just horrid henry but also about horrid ghosts!


A Horrid Factbook: Horrid Henry's Ghosts Synopsis
What's the most haunted house in the world?
What's the scariest ghost story ever told?
And what's hiding under your bed right now?
From multi-million-copy selling author, Francesca Simon, and David Walliams' illustrator, Tony Ross, comes the latest title in the successful Horrid Henry's Factbooks series, all about the things that go bump in the night. Forget Caspar the Friendly Ghost, these ghouls are nasty and they're out to get you!
For games and activities and news, keep up to date with Horrid Henry at www.horridhenry.co uk