LoveReading View on Crocodile Tears
As exciting as ever with even more action and suspense, boy hero Alex Rider is back for his eighth spectacular adventure. When Alex finds himself in great danger he turns to MI6 for protection. They are willing to help – but they want something in return. Alex is sent to spy on some GM crops where he comes across a villain with a deadly mission. When he knows Alex is on to him he tries everything to stop him. The question is, can Alex prevent him from wiping out an entire country with his deadly plot? There are lots of gadgets, as ever but you'll have to read the book to find out what they are!
Some of our readers, new to the Alex Rider series, put themselves forward to read and review all ten titles. Check out their reviews below and if you click on the link 'Read full review' you will be able to view the reviews for all 10 titles.
Crocodile Tears Synopsis
In the eighth book in the number one bestselling Alex Rider series by Anthony Horowitz, Alex meets international do-gooder Desmond McCain. But a simple card game between them rapidly leads to a duel to the death - one that could result in the destruction of an entire country.
Targeted by a hitman and under threat of his past being exposed by the media, Alex reluctantly turns to MI6. But their help doesn't come cheap: they need Alex to spy on the activities at a GM crop plant. There he spots Desmond McCain, a high profile charity organiser, who realises that Alex is on to him and the real plans for the money he's raising. Kidnapped and whisked off to Africa, Alex learns the full horror of McCain's plot: to create an epic disaster that will kill millions. Forced to ask MI6 for protection, Alex finds himself being manipulated in a deadly game that could lead to the destruction of an entire East African country.
The Alex Rider series has sold over 13 million copies in English and is published in over 28 languages.
The story of Alex Rider, reluctant teen spy in the order of his missions:

1. Stormbreaker
2. Point Blanc
3. Skeleton Key
4. Eagle Strike
5. Scorpia
6. Ark Angel
7. Snakehead
8. Crocodile Tears
9. Scorpia Rising

and Russian Roulette - The Alex Rider Prequel
For more news and chat visit the Alex Rider facebook page and find out more about the series and special Alex Rider events at www.alexrider.com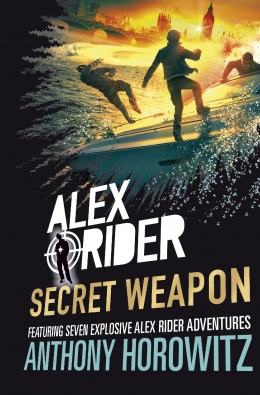 We have an fantastic Alex Rider giveaway to celebrate the publication of Secret Weapon, a collection of thrilling short story adventures. ONE lucky reader will win a SIGNED HARDBACK copy of Secret Weapon, with a bookmark PLUS a paperback copy of ALL the books in the Alex Rider series. And then TWO runners up will win a SIGNED HARDBACK copy of Secret Weapon, with the bookmark. A sensational prize for any Alex Rider fan! Please note that this draw is open only for UK residents and is free to enter, multiple entries from the same email address will only be counted once. The draw closes on 29 April 2019. The winners will be notified by 13 May 2019. Good luck!
Crocodile Tears Reader Reviews
Crocodile Tears Press Reviews
The series that has re-invented the spy genre Independent
Anthony Horowitz is the lion of children's literature Michael Morpurgo
Explosive, thrilling, action-packed - Meet Alex Rider Guardian
If you loved this, you might like these...