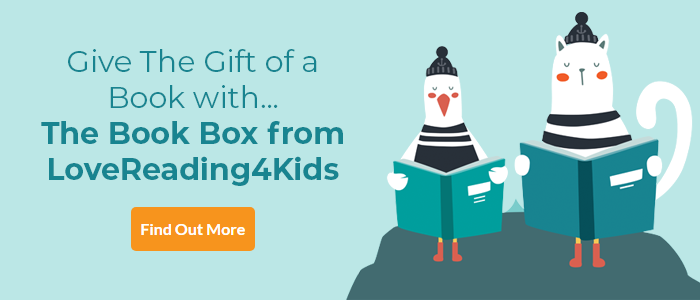 Demon Road Review
One of our Books of the Year 2015 - September 2015 Book of the Month Buckle up, because you are in for a hell of a ride! Amber's parents strike readers – and her – as eccentric, but nothing prepares her for the awful truth, revealed on her sixteenth birthday: they are demons, and so is she. Not that that will stop them from killing and eating her. Fleeing her parents, Amber embarks on a road-trip like no other. In the company of inscrutable bodyguard Miles and Glen, a gormless Irish hitchhiker with supernatural issues of his own, she speeds down America's Dark Highway, careering from one terrifying encounter with something nasty and dead to another, racing to complete a deal with the boss demon to save her life. An exhilarating mix of comedy and thrills, Demon Road had me laughing out loud one minute, jumping out of my seat the next: hard to believe that something this gory should be so much fun! Unmissable! ~ Andrea Reece
A message from Derek Landy 'I was brought up on thrillers. At first, it was the Universal and Hammer movies, played in black and white and glorious technicolour on my TV screen when I was a kid. Christopher Lee and Peter Cushing. The Fly. The Wolfman. Once bitten, I was ravenous – much like the zombies in Dawn of the Dead that I first watched on late night TV. I was ravenous, and so I devoured. Demon Road was born out of this lifelong love and incorporates elements from slasher movies, Stephen King novels, modern urban legends and that classic sub-genre: the killer car.'
Stop press...
Derek will be appearing at the Cheltenham Festival on Saturday 3rd October. Click here to find out more.

Demon Road Synopsis
The mind-blowing new supernatural thriller from bestselling author Derek Landy, creator of international sensation Skulduggery Pleasant. Full of Landy's trademark wit, action and razor-sharp dialogue, Demon Road kicks off with a shocking opener and never lets up the pace in an epic road-trip across the supernatural landscape of America. Killer cars, vampires, undead serial killers: they're all here. And the demons? Well, that's where Amber comes in...Sixteen years old, smart and spirited, she's just a normal American teenager until the lies are torn away and the demons reveal themselves. Forced to go on the run, she hurtles from one threat to another, revealing a tapestry of terror woven into the very fabric of her life. Her only chance rests with her fellow travellers, who are not at all what they appear to be...
Demon Road Reader Reviews
Teens love to read and so in addition to our Lovereading expert opinion some of our Lovereading4kids Reader Review Panel were also lucky enough to read and review this title. You can read their full reviews by clicking here.
Poppy, age 16 - 'Derek Landy is writing at his usual exceeding high standards, 'Demon Road' is suspenseful, terrifying, gripping, funny, saddening, heart-stopping and intensely awesome! And I absolutely loved it.'
Charnell Vevers - 'The story itself is one that is action-packed from beginning to end. I found it impossible to put this book down because I had to know what would happen next.'
Hamaira Kauser, age 17 - 'Great book. Loved the concept of it!'
Emily Kinder, age 14 - 'This book is amazing - unbelievably fast paced and full of action. A demon child who doesn't even know what they are? Derek Landy just got even better.'
Christie Heaven - 'Demon Road is a book that will not just be loved by children but by all!'
Millie Moss, age 15 - 'Demon Road is an incredible book. You never truly know what is coming next.'
Lewis Duckworth, age 13 - 'Fast paced and gripping. Here is another fantastic book made by Derek Landy. Demon road is an amazing book for people who like un-human things and action. Should be ranged to children around 12+.'
Edel Waugh - 'Okay, prepare for gushing! I loved this!'
Georgia Dawson - 'I ABSOLUTELY loved this book. Best book I've ever read so far! It just amazes me how interesting it is.'
Imogen Breaks, age 12 - 'Amber is on the run from her parents, on the Demon Road. A maze of twisting roads through America that are never the same route twice. She has 504 hours to find the man who disappeared 20 years ago.'
Alistair Sutherland, age 15 - 'If she runs her parents will find her eventually and she will die. If she hides her parents will find her and she will die. If she fights she will die. Read this book to find out if she survives…'
Chloe Shortall, age 19 - 'I would recommend this novel to any fans of the Supernatural TV series, as well as fans of supernatural creatures and novels.'
Jenny Duffy - 'As always, Landy's dialogue is cracking and there are twists and turns aplenty.'
Demon Road Press Reviews
PRAISE FOR THE SKULDUGGERY PLEASANT SERIES:
'This is a writer at the height of his powers and Landy is getting better with every book... Whatever your age, read them and enjoy the ride.' - Irish Independent

'Fast and funny' The Times
If you loved this, you might like these...