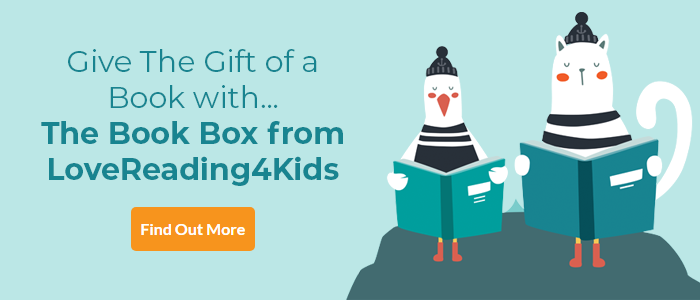 I am Henry Finch Review
A philosophical gem from two picturebook superstars
One of our Books of the Year 2016 | Winner of the English Association 4-11 Picture Book Awards 2016 - Fiction 4-7 category | Winner of Little Rebels 2016 | Shortlisted for the UKLA 2016 Book Award in the 3 - 6 year old category.
All finches make a lot of noise! Henry Finch has grown up with a terrible racket all around him from morning until night. But he is sure that there could be more to life – if only he could have space to think! How one brave little finch becomes a hero and gives all the other finches the chance to do their own thing is beautifully realised in Viviane Schwarz's witty thumb print illustrations.
Other Info
The Little Rebels Award, now in its fourth year, is for children's books that promote social justice or discuss themes such as inclusivity and anti-discrimination. It is given by the Alliance of Radical Booksellers (ARB) and administered by Letterbox Library.
Letterbox Library co-director Kerry Mason said I Am Henry Finch, which is about a bird discovering his individuality away from the flock, is an "absolute gem of a picture book". "It deploys the simplest of graphics and text to ponder vast questions about our humanity," she said. "Schwarz's blood red thumbprint finches get to the beating heart of our existence and Deacon's minimalist, beautifully structured, sentences are like a beginner's course in existentialist thought. This is a book that respects and honours the youngest of readers, believing them capable of and thirsty for philosophical thought."
I am Henry Finch Synopsis
From award-winning picture book makers Alexis Deacon and Viviane Schwarz comes an enlightening new story about courage and making a difference. For budding philosophers of all ages, this is the uplifting story of Henry Finch the loveable little bird who strives for greatness, gets it all a bit wrong, then makes it right again in a very surprising way - truly becoming great. Henry Finch is a total inspiration. This is an inspirational book. It is also very funny. I Am Henry Finch is a book for everyone - from the very young to the very old. It is for dreamers, philosophers, artists, the foolish and the enlightened. And anyone with a big bright idea. Vegetarians will love it too. A profound picture book experience told with simplicity and style.
I am Henry Finch Reader Reviews
Kids love to read and so in addition to our Lovereading expert opinion some of our Lovereading4kids Reader Review Panel were also lucky enough to read and review this title. You can read their full reviews by clicking here.
Ruby, age 5 and Nicola Laverty - 'This was a really lovely book...This book is perfect to share with young children and prompts more discussion with every reading.'

William 5, Alexander 3 and Selina - 'Very imaginative & thought provoking. After reading this book it led into a conversation about being an individual & having your own opinions. A great book for primary school age children.'
James McNichol, age 4 - 'A unique children's book.'
Emily, age 4 - 'We loved this book so much that the first time we picked it up, we read it together four times in succession - praise indeed for a small child with a short attention span!'
Rachel Zinkin, age 7 - 'We thought the book was very funny, especially when the finches are just chattering. My mummy thought the illustrator's use of fingerprints was really clever.'
Kian Banks, age 5 - 'Kian really enjoyed this book. The illustrations are beautiful.'
Thomas Gray, age 5 - 'I enjoyed it a lot. Henry is very cute and is not afraid to be himself.'
Stefanie Tucker, age 15 - 'A wonderful book with terrific illustrations. I read this to 3 children aged 4 to 5 years and they loved the vocabulary and the drawings!'
I am Henry Finch Press Reviews
Original, thought provoking and very funny. The Bookseller
This is an uplifting and hilarious story about a little bird called Henry Finch, and his endearing struggles to become something great. He makes a lot of mistakes on the way, but his courage is inspiring, getting kids to think about what it means to make a difference. Anorak
If you loved this, you might like these...
All versions of this book
About Alexis Deacon, Viviane Schwarz
Alexis Deacon's first picture book Slow Loris (2002) was shortlisted for the Blue Peter Book Award. His second Beegu (2003) was shortlisted for the Kate Greenaway Award and selected by the New York Times as one of the year's best illustrated children's books. In 2008, he was chosen as one of the ten Best New Illustrators as part of the Booktrust's Big Picture Campaign. He illustrated Russell Hoban's children's books, Soonchild and Jim's Lion. He lives in London, SE15. Visit Alexis at www.alexisdeacon.co.uk
More About Alexis Deacon, Viviane Schwarz