Matilda Review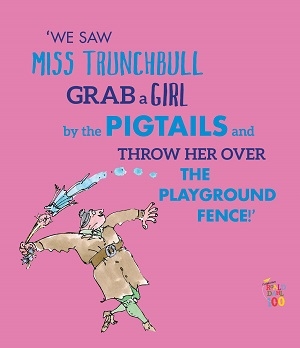 Matilda - Roald Dahl's best-loved story - though now over 25 years old, is as fresh, funny and poignant as when it was first published in 1988.
The story of a child genius, it has been adapted into film and, most recently, a hugely successful, award-winning musical with music and lyrics by Tim Minchin.
Matilda Synopsis
Phizz-whizzing new branding for the world's No.1 storyteller, Roald Dahl! Exciting, bold and instantly recognisable with Quentin Blake's inimitable artwork.
Matilda Wormwood's father thinks she's a little scab. Matilda's mother spends all afternoon playing bingo. And Matilda's headmistress Miss Trunchbull? Well, she's the worst of all. She is a big bully, who thinks all her pupils are rotten and locks them in the dreaded Chokey. As for Matilda, she's an extraordinary little girl with a magical mind - and now she's had enough. So all these grown-ups had better watch out, because Matilda is going to teach them a lesson they'll never forget.
Now you can listen to Matlida and other Roald Dahl audio books read by some very famous voices, including Kate Winslet, David Walliams and Steven Fry - plus there are added squelchy sound effects from Pinewood Studios!
Look out for new Roald Dahl apps in the App store and Google Play- including the disgusting Twit or Miss! inspired by the revolting Twits.
And visit www.roalddahl.com for games and quizzes, special events, the Roald Dahl museum, new book editions and more about all your favourite Roald Dahl creations.