LoveReading View on Boy and Going Solo
An omnibus edition with two books of memoirs detailing some of the remarkable things that happened to Roald Dahl as a boy and young man. "I have never been able to get them out of my mind, some are funny, some are painful, some are unpleasant, all are true".
Boy and Going Solo Synopsis
Boy and Going Solo is the whole of Roald Dahl's extraordinary autobiography in one volume. Reissued in the exciting new Roald Dahl branding.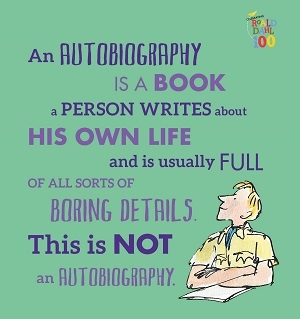 In Boy you'll find out why he and his friends took revenge on the beastly Mrs Pratchett who ran the sweet shop. He remembers what it was like tastetesting chocolate for Cadbury's and he even reveals how his nose was nearly sliced off.
Then in Going Solo you'll read stories of whizzing through the air in a Tiger Moth Plane, encounters with hungry lions, and the terrible crash that led him to storytelling.
Roald Dahl tells his story in his own words - and it's all TRUE.
You can listen to all of Roald Dahl audio books read by some very famous voices, including Kate Winslet, David Walliams and Steven Fry - plus there are added squelchy sound effects from Pinewood Studios!
Look out for new Roald Dahl apps in the App store and Google Play- including the disgusting Twit or Miss! inspired by the revolting Twits.