LoveReading View on Boing Boing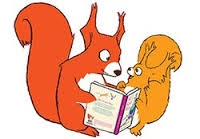 A Dyslexia Friendly Picture Book for Parent and Child The story of a little girl who literally has a spring in her step (in her knees to be precise) this is a particularly good story for parents and children to share. No matter the age of the reader, they'll appreciate the thrill of being as springy as Jane, enjoy all of her adventures, and be equally excited when her special gift allows her to do something heroic. The story is full of incident and provides lots for discussion. Part of Barrington Stoke's Picture Squirrels series it's accessible to all readers, including those – child or adult – with dyslexia, as special features from choice of font to layout and syntax, all completely unobtrusive, make it an easy read as well as fun one. ~ Andrea Reece
Publisher Barrington Stoke was inspired to create the Picture Squirrel Books titles after meeting a man with dyslexia at a book event. "We were approached by a gentleman who told us that it broke his heart that he couldn't read to his child because of his dyslexia," M.D. Mairi Kidd told The Bookseller. "So we talked to Michael Morpurgo, who we were already working with on low text books [textbooks that use a limited number of words]." The layout of picture books can be difficult for adults with dyslexia as the language and typeface are often very varied, the text can be cut into small chunks or is sometimes spun around a picture, which can make a book tricky if you don't have good reading skills. Barrington Stoke worked with the authors and illustrators to ensure that the books are suitable for dyslexic readers and thereby helping more families grow a love of reading.
On the Picture Squirrels...Michael Morpurgo says: "I was immediately taken with the idea of the Picture Squirrel books, a picture book list that dyslexic parents and less confident readers can read with their children too."
Boing Boing Synopsis
Jane has always been just a little bit different - she has springs in her knees! She bounce, bounce, bounces all over town and they call her Springy Jane. She wins all the high jump competitions and can reach the top book shelf, and if anyone stares too hard she just bounces right over them! But a terrible flood and a trapped old lady mean Springy Jane is called on for help - will her springs save the day?
Part of Barrington Stoke's picture book range for all the family, with easy-read font.