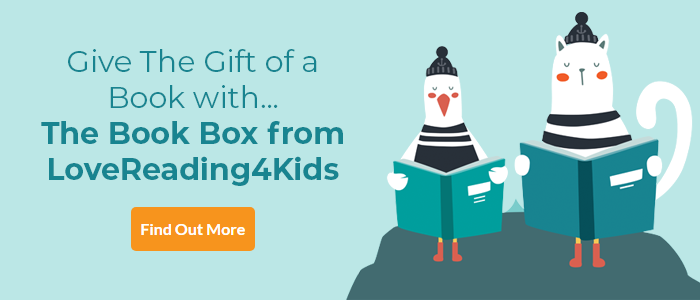 A Child of Books Review
Longlisted for the UKLA 2018 Book Award
Julia Eccleshare's Book of the Month September 2016 Award-winning storyteller and artist Oliver Jeffers and typographic fine artist Sam Winston have created an extraordinarily adventurous and original picture book which, through words and pictures, takes children on a journey of discovery through some of the greatest literature of all time. The imaginative eponymous Child of Books floats across a sea of words made from words and lines from classic children's book stories. It is a journey that recreates fairy tales, forests and monsters showing children the importance and power of their imagination in recreating them. A book to read again and again to glean all of its meaning. ~ Julia Eccleshare
Julia Eccleshare's Picks of the Month for September 2016
A Poem for Every Night of the Year compliled by Allie Esiri
Gruffalo Crumble and Other Recipes by Julia Donaldson
A Child of Books by Oliver Jeffers and Sam Winston
Beck by Mal Peet and Meg Rosoff
Tom's Midnight Garden Graphic Novel by Philippa Pearce and Edith
Jinks and O'Hare Funfair Repair by Philip Reeve and Sarah McIntryre
A Child of Books Synopsis
A lyrical picture book about a little girl who sails her raft 'across a sea of words' to arrive at the house of a small boy. There she invites him to come away with her on an adventure where they can journey through 'forests of fairy tales', 'across mountains of make-believe' and 'sleep in clouds of song'. Guided by his new friend, the boy unlocks his imagination and a lifetime of magic lies ahead of him But who will be next?
Oliver's elegant art is combined with Sam's astonishing typographical landscapes beautifully shaped from excerpts of children s classics and lullabies to create a celebration of all that books can do and all that books can become, and to encourage readers of all ages to have an immersive and unforgettable reading experience that they will want to pass on to others.
A Child of Books Reader Reviews
Young children love to read and share books and so in addition to the review by one of the Lovereading4kids editorial experts some of our Lovereading4kids parent/toddler Reader Review Panel members were also lucky enough to read and review this title. You can read their full reviews by clicking here.
Samuel Barron-Caddick, aged 10 months and mum Rachel - 'A Child of Books is a glorious celebration of reading. It delights in the power of books to transport and transform us; books take us out of ourselves and away from the everyday.'
Sabrina Chorley, age 4 - 'Sabrina loves this book, the story it tells is simple enough to engage her and the illustrations are clever enough to tell her more. We love it!'
Abi Zinkin, age 6 - 'I like that there are sudden bursts of colour of all sorts of special images that make you want to escape into a dream.'
A Child of Books Press Reviews
A gorgeous homage to the power of the written word. Imogen Russell Williams The Guardian
It's a hymn of books, reading and stories, a unique reading experience and an inspirational gift for book lovers young and old. The Bookseller
A groundbreaking, inspiring and hauntingly beautiful story from picture book giant Oliver Jeffers and typographic fine artist Sam Winston. This magical and unforgettable book is a completely unique reading experience, blending illustration and the printed and written word like never before. A Child of Books will encourage readers of all ages to question, to explore and to imagine - an infinite reminder of what books are, and all that they can do. Ni4Kids
[...] it's a totally innovative and absolutely unique exploration of the power of story and storytelling. [...] Everything about this wonderful volume is so carefully considered by this inspired pairing; for instance there's the stark contrast between Jeffers written, lyrical narrative and Winston's digitally manipulated lines from the classics. Talking of classics, this ground-breaking book is surely destined to become a modern classic. [...] I could go on waxing lyrical about this intertextual wonder but let me merely urge you to get hold of a copy of your own (and some to give). Free your mind, be enchanted and also see how many of the 42 classics you can discover for yourself between its awesome pages. It's truly a work of art and a celebration of the imagination. Red Reading Hub
The message - and indeed the last line - is, of course, that imagination is free; that there's a little crack you can look through and see a whole universe. [...] Like all the best children's books, it can be enjoyed superficially or you can get into the nitty gritty of the texts - the reader can go as deep as he likes. The Daily Telegraph
This stunning visual poem, about the way the fantasy worlds of children's books create the fabric of the grown-up mind, is also, as Jeffers is keen to remind me, a story about a boy and a girl who go on an adventure . Like all of his works, A Child of Books is for everyone and not just kids. The Irish Times
A lavish and uplifting celebration of the wonders of a limitless imagination and the power of the written word. An unforgettably inspiring read for all ages. Little London
[...] it's certainly a cleverly conceived, ingeniously illustrated and beautifully designed and produced picture book. Books for Keeps
If you loved this, you might like these...