LoveReading View on Hector and Hummingbird
Winner of the inaugural Klaus Flugge Prize, an important new illustration prize for children's books. Hector the bear likes a bit of peace and quiet, but his best friend Hummingbird just can't stop talking. What's to do?
With its retro palette of turquoise, green and pink, playful scenes and appealing characters the judges found this to be something special, admiring in particular the way the illustrator inhabits his characters.
Lovereading4kids's expert reviewer, Julia Eccleshare is the Chair of the Judges of the Klaus Flugge Prize, she said: "We asked the judges to consider technique and artistic ability, and they chose also to take into account the illustrators' skill at characterisation. The discussion was lively and wide ranging and the final shortlist features exciting and extremely talented illustrators. The Klaus Flugge Prize is very important, the only one to recognise new illustrator talent at this crucial early stage in a career and we look forward to watching all six of the shortlisted illustrators develop."
And on the announcement of the winner:
The judges included children's laureate Chris Riddell, illustrator Tony Ross and professor Martin Salisbury of the Cambridge School of Art. Riddell said: "The shortlist featured six skilful and talented illustrators but Hector and Hummingbird is something very special. We were particularly impressed with the way Nicholas John Frith creates the characters of Hector and Hummingbird through his illustrations, and the relationship between them is completely convincing. It's certainly a very stylish book to look at, but the characterisation won it for us. Children will love these two heroes, it's a book with heart."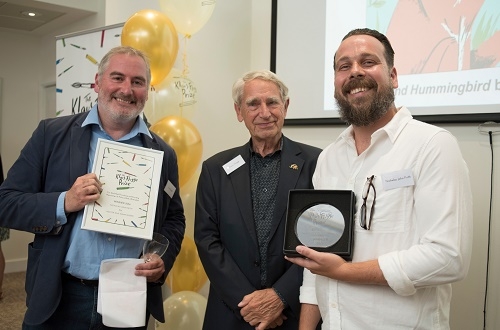 Klaus Flugge Book Prize 2016 ceremony, left to right: Chris Riddell Children's Laureate, who presented the prize; Klaus Flugge of Andersen Press; the winner Nicholas John Frith
Hector and Hummingbird Synopsis
HECTOR AND HUMMINGBIRD is the story of an unlikely friendship between a noisy hummingbird and a bear who just wants to find some peace and quiet. But when Hector finally stomps off to be alone, he finds that life isn't complete without his noisy friend.
Frith explains he found inspiration for the characters close to home: 'Hector, a bear who appreciates peace and quiet, is based on my wife, who is distinctly Hector-like when she comes home after a busy day at work and has to cope with me, desperate to chat à la Hummingbird after a day alone in my home studio!' He thanked his wife, Amy, in his acceptance speech for 'her patience, support and understanding', adding 'I'm not an easy man to live with whilst I'm working on a book- without you I wouldn't be doing this!'
Printed in vibrant, special colours, Hector and Hummingbird is the exciting debut picture book from Nicholas John Frith.