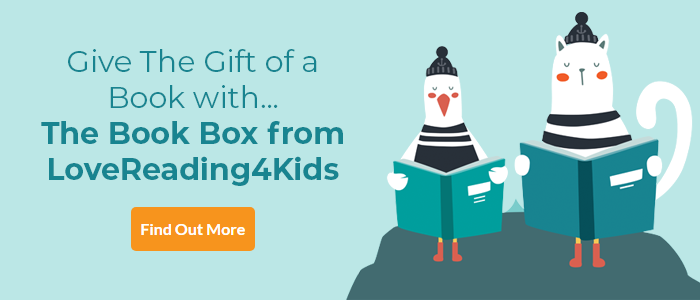 Aubrey and the Terrible Ladybirds Review
Branford Boase award winning Aubrey returns in this exciting quest to avoid environmental disaster. The humorous and characterful insects and animals are a real delight
Longlisted for the UKLA 2018 Book Award
A sequel to the award winning Aubery and the Terrible Yoot, Horatio Clare tells an entertaining new story about his hero Aubery, who this time wants to get away from his parents' fighting – and gets involved in trying to save the world while he is about it. Aubery's special gift is that he can talk to animals and understand everything that they say so, when a spider invites him to help her save the world, he sets off on an amazing adventure across time and space. From the animals Aubrey learns much about relationships the vagaries of and about how everyone must share if the world is to be a better place.
Other Info
Julia Eccleshare's Picks of the Month for June 2017
Aubrey and the Terrible Ladybirds by Horatio Clare
Adventures of John Blake, The: Mystery of the Ghost Ship by Philip Pullman
Axel Scheffler's Flip Flap Ocean by Axel Scheffler
Maisy Goes to the Bookshop by Lucy Cousins
Tender Earth by Sita Brahmachari
Old Hat by Emily Gravett
The Cow Who Fell to Earth by Nadia Shireen
A Piece of Passion from editor Penny Thomas: Children's stories like Aubrey and the Terrible Ladybirds don't fly in and land on my desk too often. Horatio Clare is absolutely brilliant at writing about animals, people, travel and adventure. This superbly written story tackles our relationships with each other and with the natural world around us, and brings a desperately needed dose of good sense, warmth, tolerance and fun to our uncertain times.
A review of the first in this series, Aubrey and the Terrible Yoot, from Michael Morpurgo Well, this was a joy! Here is writing and storytelling at its best. Here is a wondrous tale, from a writer who loves language, makes music of it, frolics with it, who knows the wild world of his fellow creatures about him so well, loves this world so well that it is nothing for him to talk to the animals and listen to them too…Here is a tale that sweeps you along inside its magic, and its hope… A daring book, beautifully conceived, and supremely well written. Horatio Clare has the voice of a great storyteller. As I said, a joy, a sheer joy!
Aubrey and the Terrible Ladybirds Synopsis
Aubrey returns in a post-Brexit epic adventure that tackles environmental, migration and relationship themes.
The ladybirdz arrive in Woodside Terrace, and Aubrey's Easter holidays get complicated. Ariadne the spider asks Aubrey to help. Something Must Be Done, but first Aubrey sucks the swallow stone which makes him small enough for daring flights on the back of Hirundo the Swallow and amazing adventures in the Web of Time and Space. Add in Bernardo the bee, Eric the earthworm and a whole conference of ravens, and you have the start of an epic tale in which a small boy and a house spider try to save the world!
Aubrey and the Terrible Ladybirds Reader Reviews
Kids love to read and so in addition to the review by one of the Lovereading4kids editorial experts some of our Lovereading4kids Reader Review Panel members were also lucky enough to read and review this title. You can read their full reviews by clicking here.

Seren Daly, age 10 - 'Fantastically funny and amazing, I just couldn't put it down.'
Lewis Briggs, age 10 - 'An adventurous book about a boy who turns small and is asked by a spider to save the world. Funny and gripping! I loved this book! I can't wait to read the next one.'
Erica Motoc, age 11 - 'This book is awesome and gave me a different view about insects and I loved all the different things like 'The Great Hunger'. They were great!'
Josh Parcell, age 9 - 'I would give this book a rating of 10 stars, because it was full of adventures and about animals two of my most favourite topics!'
Reuben Lunt, age 10 - 'This was not just a book, it was a crazy, imaginative warning to the earth.'
Beatrice Whithear, age 9 - 'There was some really exciting bits when I didn't want to stop reading...but I definitely want to read the next one.'
Grace Phelan, age 9 - 'An interesting read full of adventure and fantasy.'
Sue Wilsher - 'As in Aubrey and the Terrible Yoot, Horatio Clare has a knack of explaining fairly complex issues in a very child-friendly way, making things easier to understand...A satisfying second adventure!'
Isla Howells, age 12 - 'Lovely, exciting journey and I loved every moment of it, a real page-turner.'
Amina - 'Sink into Aubrey's world where anything can happen talking to animals, flying (sort of) and even problems. Will Aubrey save the day read the book to find out.'
Ross O'Gorman - 'A magical, funny tale about a boy called Aubrey who loves animals and can understand what they are saying. He gets called upon to save the world by stopping the human race destroying the planet.'
Aubrey and the Terrible Ladybirds Press Reviews
'Horatio Clare writes about animals as well as T. H. White.' 'stood out from the beginning' Branford Boase Award Judges
'Horatio Clare has the voice of a great storyteller. As I said, a joy, a sheer joy!' Michael Morpurgo
'A jewel not to be missed' Nicolette Jones



If you loved this, you might like these...