LoveReading View on La Belle Sauvage: The Book of Dust Volume One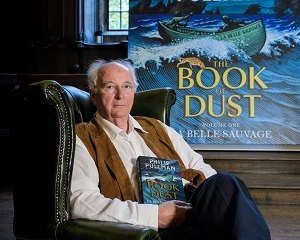 Shortlisted for the YA Book Prize 2018 | One of Our Books of the Year 2017 | November 2017 Book of the Month
More than two decades after Northern Lights the first book of Pullman's world-famous His Dark Materials trilogy, which has sold more than 17.5 million copies in over 40 languages comes, La Belle Sauvage, the first volume in his 'The Book of Dust' series.
#BookofDust will return to the parallel world that has enthralled readers young and old. La Belle Sauvage is set 10 years before Northern Lights and centres on the much-beloved Lyra Belacqua. Alethiometers, dæmons, and the Magisterium all return to play their part. Since the 'equel' (as Pullman likes it to be known) to His Dark Materials was announced, fans around the globe have cheered the return of Lyra Belacqua, heroine of His Dark Materials.
In a short film released by his publisher, Pullman revealed the ingredient for success behind His Dark Materials: Lyra's ordinariness. He says: "When I wrote the first book of His Dark Materials - Northern Lights - I certainly didn't anticipate that so many people would find Lyra as interesting a character as I did." "The thing about Lyra is that she's not a special child. She's not especially gifted or talented - she's a very ordinary child. When I was a teacher, I taught many girls who were like Lyra. They were brave, inquisitive, curious, disobedient: all those interesting things for storytellers. I think the reason that people have read this long and complicated story is because they're with Lyra. She doesn't know the things that are threatening her and she's in the same position as the reader, because the reader shares her sense of danger and excitement and curiosity about what's going to happen next. I hope the same thing will be true of Malcolm in La Belle Sauvage."
A Piece of Passion from Francesca Dow, Managing Director, Penguin Random House Children's (UK): "La Belle Sauvage: The Book of Dust Volume One is a story for our time, with themes that resonate with our world today. It is a story for everybody: a much longed-for treat for established fans of His Dark Materials as they meet Lyra Belacqua again and the chance for new readers to step into the magical world of Philip Pullman for the first time.
Pullman is a master storyteller, and Lyra has established herself firmly as one of the most-loved characters in literature, a worthy contemporary of the likes of Hermione Granger (Harry Potter series), Jean Louise 'Scout' Finch (To Kill a Mockingbird) and Katniss Everdeen (The Hunger Games). In this book, she is joined by a new hero readers will love: an ordinary boy who steps up to the challenge of a lifetime."
Photo credit: Philip Pullman at a press conference held in Convocation House to launch his new novel La Belle Sauvage. © Ant Upton_Photocall Productions.
La Belle Sauvage: The Book of Dust Volume One Press Reviews
"Once again the theme is growing up and puberty as an initiation into the reality of the world… But it is also about what you are given after puberty, when, like Adam and Eve, you find that the world is all before you." The Sunday Times Magazine
"There are boat chases, hints at romance. It will be devoured." The New York Times Magazine
Praise for Philip Pullman:
'One of the supreme literary dreamers and magicians of our time.' Guardian
'A genuine masterpiece of intelligent, imaginative storytelling.' Mail On Sunday
'One of those books which one can hardly bear to close.' Scotsman