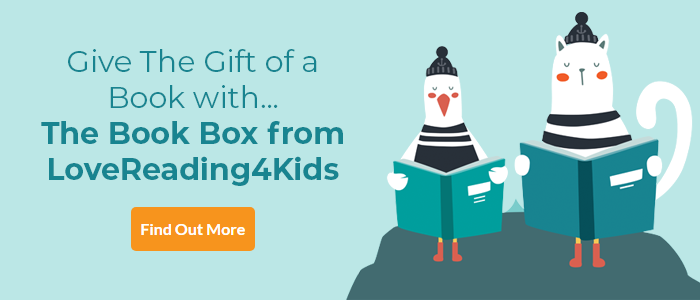 LoveReading View on Planet Stan
In a nutshell: brotherly love under the microscope
April 2018 Debut of the Month | Space, family relationships, friendships – they're all cleverly and vividly described in this highly entertaining story. Stan, our nerdy but very likeable hero, wants nothing more than to win a telescope in the science fair so that he can study space, his passion. The main obstacle to this and indeed all Stan's hopes and wishes, is his little brother Fred, a dinosaur-obsessed five-year-old tornado of destruction and unpredictability. Super-orderly Stan resorts to a range of charts and measuring devices to fill us in on his life – pie-charts, ordinary charts, illustrated diagrams, Venn diagrams – and together with his lugubrious, sometimes agonised delivery, it makes for fast and very funny reading. Readers will be on Stan's side from the start, and this will speak to anyone who has, is or knows a younger brother or sister.
Other Info
Author, Elaine Wickson tells us a little bit about her new book...."I always imagine Stan as a cross between Moss from the IT crowd and Professor Brian Cox – but as 11-year-olds with a really annoying younger brother. Stan's a bit nerdy, big on organisation, loves his space facts, and is basically just after some quality me-time. He's endlessly being blamed for his brother's antics because of 'Older Sibling You Should Know Better' syndrome. Stan and Fred's relationship is very loosely based on my sons, who look out for one another and annoy each other in the way that only siblings can. When they were learning to talk, they came out with some priceless gems, which I wrote down in personally bound notebooks (because that's the kind of bonkers thing I do). Every time I read them, it's like travelling back in time. Fred originated in those notebooks, but soon burst out and took on a life of his own. Stan had no idea what was going to hit him."

We've got some great stuff related to this book in our KidsZone.
Head over there and check it out now.
Planet Stan Synopsis
Stan loves a calming, ordered environment. His dinosaur-loving younger brother Fred is the opposite: chaotic, messy, prone to leaving snails under Stan's bed. As Stan struggles to cope with his high maintenance brother and his hair-brained schemes he charts all the ups and downs of his life in a series of hilarious infographics.
Read an author Q&A with Elaine Wickson here.
Planet Stan Reader Reviews
In addition to our Lovereading expert opinion some of our Lovereading4kids Reader Review Panel members were also lucky enough to read and review this title. You can read their full reviews by clicking here.
Daniel, age 6 - 'Planet Stan is all about science, pie charts and Venn diagrams...I extremely love the book...It's super funny, it will blow your mind.'
Ethan, age 10 - 'Great book, hilarious. Packed full of comedy and generally a great all round book.'
Huxley Glen, age 7 - 'This is such a funny book, I couldn't stop laughing when I read this. The characters brother is so funny. I can't wait to read more books like this.'
Toby Little, age 10 -'There are lots of pie charts and graphs in this book, and lots of things happening, and surprises. I hope you enjoy reading this book. I loved reading it.'
Erica Motoc, age 12 - 'Although based on the popular subject of siblings, Planet Stan has a unique twist and simple but affective illustrations. If you are down, it's a perfect book to bring you up!'
Lewis Briggs, age 11 - 'A must read for all Diary of a Wimpy Kid fans...I loved this book and almost cried when I finished it! I would recommend this book to anyone. It is hilarious and kept me entertained for hours!'
Joshua Hyun Clifford, age 9, YLolfa Gcg Library - 'I love this book because it is funny, silly and an awesome read. I would recommend this book to my friends for the laughs and humour it gives. 10 stars out of 10!'
Annabelle Cassidy, age 9 - 'I really loved this book. It was amazing because it was really funny and sweet and teaches you how to love your brother and sister even if they are annoying.'
Gianna Smith, age 8 - 'I have not read a book like this before but I loved the whole thing and made even my mum laugh out loud, especially the 'need cake'.'
Alexander Bisland, age 12 - 'I really enjoyed the way this book was written and I think more books should include charts, diagrams and graphs to make them more interesting! I give it 5*****.'
Planet Stan Press Reviews
'A highly entertaining ad-VENN-ture that's loveably BAR-my with hilarity, humour and hap-PIE-ness in all the right places. . .surely making it a serious (or should I say, not-so-serious!!!) contender for the Lollies (Laugh Out Loud Book Awards).' * @MrEPrimary, thereaderteacher.com *
'Wonderful observational comedy about siblings. Planet Stan is a genuinely funny, laugh out loud story packed with warmth and wit.' * Andy Shepherd, author of The Boy Who Grew Dragons *
'I absolutely loved Planet Stan. What funny, endearing and extraordinary people Stan and his brother Fred are. A fantastic read.' * Margaret Pemberton, Children's Librarian *
'My 9yo has drawn a pie chart to show why he loves Planet Stan ... Truly inspired, his diary is now filled with pie charts of his own life! What a genius idea'
If you loved this, you might like these...