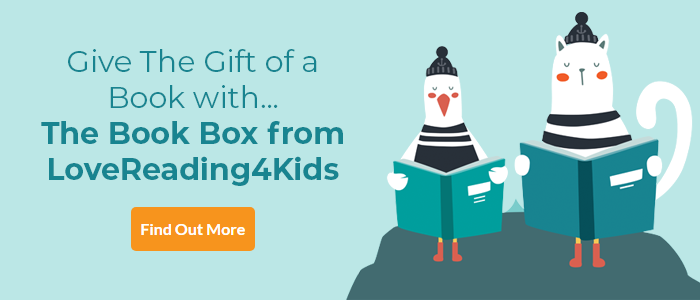 Laugh Out Loud Review
Lively, comic story celebrating kids' reading and determination
James Patterson creates books kids love, and his latest book is all about a boy who decides to create books kids love by setting up his own book company. Jimmy is determined to follow his dream of a company run by kids for kids, despite the scepticism of parents, teachers and the bank. The story mixes real life and fantasy, and along the way slips lots of recommendations for other unputdownable children's books from Charlie and the Chocolate Factory to Hatchet by Gary Paulsen, the book that inspires Jimmy to keep trying no matter what. It could have sunk under the weight of self-reference (the book also mentions lots of Patterson's own children's books) but the author knows what he's doing and the pacey narrative, variety of scenes and events, and Jimmy's straight-to-camera narrative keeps the pages turning nicely.
Laugh Out Loud Synopsis
Jimmy loves reading so much that he's inspired to start a book company for kids - run by kids. It's a big dream for a twelve-year-old boy - some would even say it's laugh-out-loud ridiculous! But that doesn't stop Jimmy from dreaming even bigger! His company will be as imaginative and fun as Willy Wonka's chocolate factory... with a Ferris wheel instead of an elevator, a bowling alley in the break room, and a river filled with floating books! He just has to believe in himself and his idea. And maybe win the Lottery. In this hilarious story filled with clever references to children's book favourites, James Patterson shows young readers that anything can be achieved if you believe in yourself no matter what!
Find lots of news and fun activities on the Middle School books here.
Laugh Out Loud Reader Reviews
Some of our Lovereading4kids Reader Review Panel were lucky enough to read Just My Rotten Luck, the seventh book in the series. You can read their full reviews by clicking here.
Oscar Smith, age 8 - 'This is a laugh your socks off book with lots of wacky hijinks and cheeky puns!!????'
Tomasz Hawryszczuk, age 10 - 'One of the best books I have ever read. I love the Middle School series and I think this is the best one yet. If you like Wimpy Kid and Tom Gates then you will love this too.'
Katelyn Keast, age 9 - 'I really like this book because it's so funny and when I started reading I couldn't stop. This book is so easy and fun to read I love it.'
Bryher Humphryes - 'I really enjoyed Middle School: Just my Rotten Luck because it's really funny and hilarious and the cartoon drawings are amazing.'
Toby Jarvis, age 10 - 'This book is about a boy called Rafe who has an amazing passion for art he describes himself as a loser but throughout the year it gets better for him. I loved this book and now my brother is reading it and he loves it to.'
Josh Curtis, age 13 - 'Overall I think this was a very good book and I wanted to carry on reading as it was very interesting and funny. I would suggest this for 10 years and over.'
Sophia Curtis, age 9 - 'I really like this book and think that people 9+ boy or girl.'
Baqir Saleem, age 10 - 'Join Rafe on his amazing journey through middle school and see how he encounters ups and downs through his school life and copes through getting bullied by the brutal Miller the Killer...'
Isabelle Wood, age 9 - 'I really enjoyed this book and recommend to everyone.'
Danny Belton, age 10 - 'I really liked this book. As usual James Patterson has done a great job at writing this book and I hope he does more books in this series.'
Hannah Baer, age 12 - 'Personally, I enjoy these books because lots of people read them and they are funny and normally easy to understand.'
Nicholas Butler, age 9 - 'Girls will like it, but I think boys would like it more, especially if they don't particularly like reading as it's easy to read and really funny in places.'
Laugh Out Loud Press Reviews
Praise for the Middle School series:
"An excellent read" The Guardian Children's Website on Middle School: Lost in London
"A great pick for reluctant readers" Amazon.co.uk reviewer on Middle School: Ultimate Showdown
"Middle School is my favourite set of books" Amazon.co.uk reviewer on Middle School: How I Survived Bullies, Broccoli and Snake Hill
If you loved this, you might like these...