LoveReading View on Iguana Boy vs. The 30 Second Thief
Super-readable super-hero comedy
September 2018 Book of the Month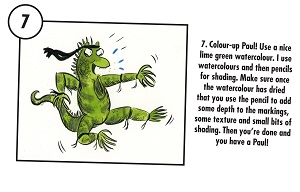 Think you know super-hero stories? Think again! Dylan, aka Iguana Boy, has an unusual super-power – he can talk to iguanas. Despite the derision of his superhero siblings, he's already managed to save the world once (detailed in book one of the series) and therefore has a place at Superhero HQ. It's not quite what he'd hoped for, then he's put in charge of a special superhero team, the CITD no less… Even though that actually stands for Cats in Trees Department, Dylan and his band – including his five iguana sidekicks – manage to foil a criminal mastermind. Absurd situations and a range of fabulously comic characters, both human and reptile, put this at the top of the superhero comedy tree, with regular, very funny cartoon strips adding to the enjoyment.

We've got some great stuff related to this book in our KidsZone.
Head over there and check it out now.
Iguana Boy vs. The 30 Second Thief Synopsis
He might have the lamest superpower ever but Dylan, AKA Iguana Boy, has proven himself worthy enough to be accepted into the superhero collective. Dylan is excited and his iguanas are hyper. Recipe for success, RIGHT? Iguana Boy and his team of iguanas eagerly await their orders to SAVE THE WORLD. But CEO of the Superhero Collective Ron Strongman doesn't have time for lowly superheroes. Dylan will have to find his own way to get to the top, or else he will be saving silly cats from trees FOREVER. When a new villain is causing chaos across London, Dylan can't believe his luck... this is his chance.
Can Iguana Boy bring Repeat Offender to justice ... In 30 seconds or less!
Iguana Boy vs. The 30 Second Thief Reader Reviews
Some of our Lovereading4kids Reader Review Panel were lucky enough to read and review the first in this series, Iguana Boy Saves the World With a Triple Cheese Pizza. You can read their full reviews by clicking here.
Ollie Hopwood and Toby Hopwood, age 8 and 6 - 'We loved it! It is funny and adventurous and the Iguanas made Iguana Boy dress as a penguin just because they thought it would be funny. It was brilliant!'
Kai Daly, age 8 - 'It was so good I could hardly take my eyes away from it, the book was really thrilling...This book is the most addictive book I've read.'
Mark Dunn, age 7 - 'It is a very funny book with funny comic strip sections with cool drawings, they brought the story to life even more... This is a really different, imaginative and funny story - I enjoyed reading it.'
Huxley Glen, age 7 - 'This sounded like it was going to be a really good book but we were disappointed in it. We found it was hard to follow and not an easy read.'
Joshua Hyun Clifford, age 9, YLolfa Gcg Library - 'It is Epic in all ways.'
Isabel Yeon Clifford, age 7, YLolfa Gcg Library - 'I would recommend this book because it is funny and a good story. I give this book full marks and really want to buy it and add it to my collection.'
Daniel Bisland age 10 & Alexander Bisland age 12 - 'We recommend it to 8+ because it's easy to read, full of adventure and very funny. We can't wait to read the sequel.'
Prisha Yada, age 8 - 'A fantastic and interesting book about Iguana Boy Superhero. I liked this book as it is different and had an interesting writing style.'
Ethan Watkin, age 10 - 'Funny, action packed book that is fairly easy but very enjoyable to read. If you like Diary of Wimpy Kid and superheroes you will love this book...I hope there are more in the series.'
Emma Matthews, age 10 - Red Maid's Junior School - 'Iguana Boy is a fantastic book! If you're the person who likes adventure books you'll love it.'
Niamh Allerton, age 9 - Red Maid's Junior School - 'A very enjoyable book!'
James McNichol, age 8 - 'I'm sad to say that I didn't really enjoy this book and it took me a long time to read.'
Daniel, age 13 - 'I like this book because it has a lot of excitement in it and it is really funny.'
If you loved this, you might like these...