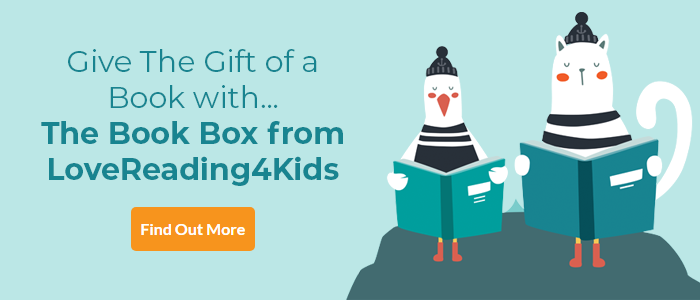 LoveReading View on My Secret Dragon
A rollicking mix of sci-fi, fantasy and mythology
Lively and cannily told, this rollicking adventure mixes sci-fi, fantasy and ancient mythology. Aidan and his mum have a secret, a very unusual one: she is part dragon, able to breathe fire and with sharp, scaly claws for fingers. They've managed to keep this hidden, but just after Aidan has started school after years of home-schooling, someone finds out and Mum is kidnapped. With the help of his new friend Charlotte, Aidan sets out to rescue her. It turns out Mum is in real danger, along with some other unusual prisoners… The mix of ordinary life and fantasy is very well handled, and the narrative – mostly handled by Aidan but with interjections from Charlotte, and a mysterious third voice – will keep everyone on tenterhooks.
Other Info
A Piece of Passion from Publisher Siobhán Parkinson; 'As well as being a terrific adventure story, this is a book about difference and family and friendship and what it is to be a decent human being — and then there are recipes. I mean, recipes and dragons and adventure and friendship. What's not to like about this daft, funny, touching, magic adventure story!'
A message from author, Debbie Thomas; My Secret Dragon was inspired by Katie Briggs, an ancient disease and a jog. Katie was the primary school classmate who invited everyone except me, or so it seemed, to her seventh birthday party. The disease is leprosy which, though quite easy to cure, is still viewed as a curse in some societies. And it was during a morning run that the words 'My mother is a dragon' jumped into my head (I can show you the paving stone I stumbled over). The rejection I felt as a six-year-old has grown, I hope, into something more useful: a desire to fight social exclusion and prejudice, in myself and others. Working for Nepal Leprosy Trust, an organisation that fights the stigma of leprosy in Nepal, I've seen how intolerance is so often born of fear. And post-apartheid South Africa, where I lived for eight years, showed how celebrating diversity enriches lives. At the start of My Secret Dragon, Aidan and his mum consider her fire-breathing and scales a disability, subtle enough to allow her outdoors but so potentially dangerous that Aidan has to be home-schooled and hidden away to protect her. I wanted to set her extreme 'otherness' in a down-to-earth, believable environment in order to explore realistic reactions to difference. Aidan is resentful and scared of rejection. His classmate's dad finds Mum's 'deformity' disgusting. Charlotte, the class loner and a fellow outsider, adores and admires her, while there's ruthless exploitation from the narcissistic Dr Krinsky who kidnaps and tries to kill Mum for his own gain. I loved the idea of a shy, gentle part-dragon who has the power to terrorise through her fire-breathing, but wants only to belong and use her gift for good. Aidan's shame turns to pride in his mum's uniqueness, helped by Charlotte's true friendship, which contrasts with that of the bullying, popular Phil. Above all, I hope you find My Secret Dragon a fun, exciting adventure with family and friendship at the heart. I want it to delight, surprise and invite readers to cherish diversity and kindness as they join Aidan on his journey from anger to celebration of his wonderful mum, with the help of Charlotte and her love of Greek legends. Oh, and the recipes are tasty too – Aidan's edible versions of) the strange genetic ingredients that make up his mum (if you're wondering, there is a scientific explanation of how she inherited those genes). So thanks, Katie Briggs, for that tiny, huge rejection that inspired a story about family love and friendship, saving the environment (or not) and Hula Hoop cupcakes.
My Secret Dragon Synopsis
Aidan has spent most of his life keeping a low profile because his mum has a terrible secret - one that he can't be trusted to keep if he mixes too much with other kids or goes to school. You see, Aidan's mum is part-dragon. She has scales and claws and can breathe fire. But she is terrified of anyone finding out.
When Aidan's mum suddenly disappears, Aidan and his best friend Charlotte set out on a dangerous adventure to find her. They track her to a murky research laboratory on the other side of the country, and there they find several other part-mythic-beast `freaks' all in the thrall of an evil scientist who is hell-bent on stealing their special powers for himself. Aidan and Charlotte have to find a way to rescue Dr Krinksky's victims from the horrors of his lab and bring his mum back home safe and sound.
Cooking and baking also feature heavily throughout the book, and readers will find all the recipes for Aidan and Charlotte's magnificent creations in the back of the book! The recipes include things like Crunchie Bar-Nana Bread, Honey-Raisin-Avocado Ice-Cream, and Hula-Hoop Cupcakes.
My Secret Dragon Press Reviews
'A smashing romp. The writing is excellent.' – Celine Kiernan, author of Begone the Raggedy Witches
'Unforgettable characters and page-turning action' – ER Murray, author of the Book of Learning trilogy
If you loved this, you might like these...