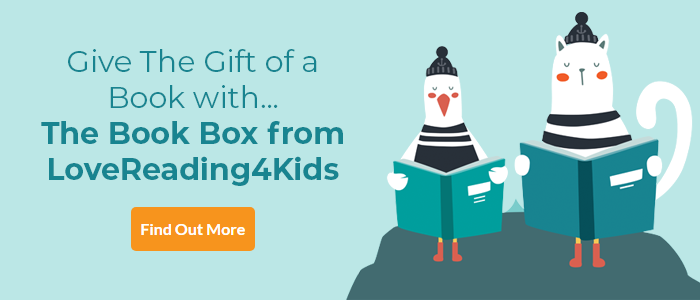 Lark Review
Winner of the CILIP Carnegie Medal 2020 | Longlisted for the UKLA Book Awards 2020 | February 2019 Book of the Month | A Julia Eccleshare Pick of the Month July 2020 | Interest Age Teen Reading Age 9
Cleverly set within a gripping adventure, Lark is a deeply touching story of the special bond between brothers. Older brother Nicky narrates the story of the day he and his younger brother Kenny set out on a simple day out on the moors. Proposed by their father as a way of filling time while they wait nervously for their mum to return from her new life in Canada, it is meant to a fun day out tinged with a bit of nostalgia as they are retracing a walk that he used to enjoy. But the simple walk which begins in a light hearted way soon becomes a deadly dangerous adventure as the weather conditions close in, the boys get completely lost and Kenny has to show exceptional courage and intelligence to make sure he can get Kenny home safely. Anthony McGowan maintains the intensity of the story throughout while also keeping the writing simple.
Other Info
On his Carnegie Medal win, Anthony said "Every writer for young people dreams of winning the Carnegie Medal. Its incredible history, the rollcall of the great writers who have won it and the rigour of the selection process, makes this the greatest book prize in the world. It is also a magnificent way of connecting with readers. The hundreds of shadowing groups in schools and libraries around the country provide that one thing that writers cannot do without: a living, arguing, debating, biscuit-munching population of brilliant readers!
"On one level, Lark is a simple adventure story. Two woefully ill-equipped teenage boys, and their old Jack Russell terrier go for a walk on the North Yorkshire Moors. A blizzard descends and their fun day out, their 'lark' turns into a desperate battle for survival. On another level, the book is about the unshakable love between two brothers, one of them with special needs, after enduring family break-up, poverty, bullying and cruelty. Lark is also a story about the power of stories and the way they weave through our lives. The book ends with the words 'Tell me a story,' and with those words we are led back again to the beginning."
--------------------------------
Julia Eccleshare's Picks for Februry 2019:
Lark by Anthony McGowan
Two Sides by Polly Ho-Hen
The Star-spun Web by Sinead O'Hart
Boom! Bang! Royal Meringue! by Sally Doran
Along Came A Different by Tom McLaughlin
The Cook and the King by Julia Donaldson
Barrington Stoke is the foremost publisher of dyslexia friendly books and those for reluctant readers. Here on Lovereading4kids we are constantly selecting new titles and refreshing our special dyslexia friendly category.
Click here to view our current selection which is broken down by age range.
Find out more about the UKLA Book Awards here
Lark Synopsis
Things are tense at home for Nicky and Kenny. Their mum's coming to visit and it will be the first time they've seen her in years. A lot has changed since they were little and Nicky's not so sure he's ready to see her again. When they head for a trek across the moors to take their minds off everything, a series of unforeseen circumstances leaves the brothers in a vulnerable and very dangerous position. There might even be a chance that this time not everyone will make it home alive...
An uncompromising and heartbreaking end to the story of Nicky and Kenny, the beloved brothers of the Carnegie shortlisted Rook, beautifully told in McGowan's gritty realism.
A message from the author; "When I began Brock, I never planned on writing a sequel. I certainly never thought there would be four books. But each time I typed 'The End' I had a feeling that somehow Nicky and Kenny's story was unfinished. I've come to know them better than any of the hundreds of characters I've created over the years, and I felt an obligation to them. Their lives began in poverty and turmoil. Together we made it through to a brighter place. But I wanted one last trial, one last adventure"
Particularly suitable for struggling, reluctant, or dyslexic readers aged 13+.
Lark Press Reviews
"Never have three sparsely written novellas packed such an emotional punch. Not a word is wasted and, for me, they are the absolute definition of the word 'classic'" - Phil Earle, Guardian
Praise for the novellas Brook, Pike and Rook;
"McGowan … freights every word with truth and feeling … Few other writers for the young better understand the pull of the gang and the fear of the bully" The Times

"[Nature] provides a moment of epiphany that resounds. Simply told, yet laced with urgency, this will spellbind" Philip Womack, Daily Telegraph
"Rook is an outstanding piece of writing … unflinching and authentic, funny and gritty and a treasured addition to my bookshelves" Waterstones Bookseller
"A gut-wrenching tale of crime and punishment makes compelling reading" New Stateman
"Gritty, unflinching and authentic ...with a life-affirming warmth" Carnegie Judging Panel
"Lucid and sharp as broken glass, it's a book filled with raw, elemental emotion" Guardian
"McGowan writes in prose as spare and effective as that of Barry Hines … there's an extraordinary depth and elegance to this story. An outstanding novel" Andrea Reece. Lovereading4Kids
If you loved this, you might like these...