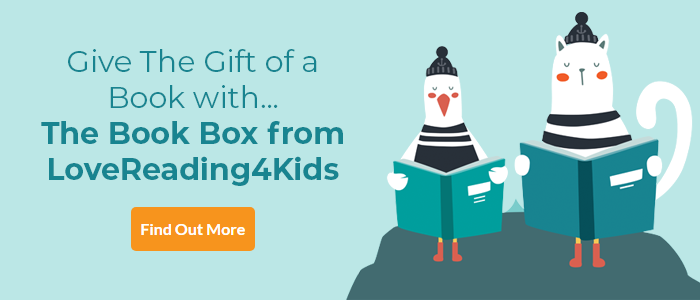 LoveReading View on Kid Normal and the Shadow Machine
Fast-paced comedy adventures starring reassuringly normal heroes
It's a superhero book, folks, but not as we know it. Murph, star of this funny and good-natured series by Greg James and Chris Smith, is different from most of the kids at his school in that he doesn't have superpowers. However, there's a lot to be said for teamwork, and as leader of the Super Zeroes, he's discovered a way to be heroic without the powers. Have he and his compadres met their match though in the thoroughly unscrupulous supervillain Magpie? As ever it's a fast-moving caper packed with jokes and humour, and thoroughly satisfying from beginning to end. Erica Salcedo deserves special mention too for her energetic and distinctive black and white illustrations.
One to recommend to fans of David Solomons' My Brother is a Super-Hero series and Danny Wallace's Hamish books.
Other Info
Find out more about the series & meet the characters at kidnormal.tumblr.com
Watch a video of the authors Greg James and Chris Smith talking about the very first Kid Normal book on KidsZone.

We've got some great stuff related to this book in our KidsZone.
Head over there and check it out now.
Kid Normal and the Shadow Machine Synopsis
The third book in the bestselling, award-winning, laugh-out-loud funny Kid Normal series by Greg James and Chris Smith.
YOU DON'T NEED SUPERPOWERS TO BE A HERO ... Or do you? Despite having no powers, Murph Cooper is part of the best team in the Heroes' Alliance. So when supervillain Magpie declares all-out war, Kid Normal and the Super Zeroes lead the charge. But Magpie believes that a powerless hero is no hero at all. And he's building a dastardly device to prove it. When Kid Normal enters the Shadow Machine, THE WORLD WILL NEVER BE THE SAME ...
Kid Normal and the Shadow Machine Reader Reviews
Some of our Lovereading4kids Reader Review Panel members were lucky enough to read and review the first in this series, Kid Normal. You can read their full reviews by clicking here.
Alexander Bisland age 12 & Daniel Bisland age 10 - 'We enjoyed this book because it was funny and leaves you on the edge of your seat. We give it 5/5. We recommend it to 9+.'

Erica, age 11 - 'So, this phenomenal book is perfect for anyone in doubt or any one who is thirsty for adventure and it's perfect for any age. Just remember, if in doubt, there's always a silver lining to every cloud.'

Emily Yates - 'Kid Normal is a story of trust, bravery and friendship, along with a touch of very silly fantastical ideas, that seem so real that they come alive on your page!'
Joshua Beverley, age 9 - 'This book is hilarious, gripping and takes you on a journey through Murph Cooper's schools. Murph moves around a lot but nothing prepares him for 'The School'...Find out all about it in 'Kid Normal'- an extraordinary story about an ordinary boy.'
Josh Parcell, age 10 - 'The book is really funny because strange and weird things happen and I really like that...I would rate this book a million out of 10, probably the best book I've read this year.'
Kid Normal and the Shadow Machine Press Reviews
Praise for Kid Normal:
So funny, it's almost criminal - Independent I
Outrageous capers for eight and up ... Amusingly surreal super-powers and a trust yourself message combine to strong effect with Erica Salcedo's entertaining, huge-eyed images - Guardian
An extraordinary tale about an ordinary boy in a world of heroes ... A fast-paced, humorous adventure with likeable heroes and a suitably ridiculous, evil villain - Times Educational Supplement
This spoof superhero epic certainly delivers: deliciously dastardly villains, capes, tights and mild-mannered heroes. Yet it also explores familiar school anxieties that everyone else is smarter, stronger, better – BookTrust

Chock full of slapstick humour, outrageous characters and pop culture references. It mocks school pecking orders and will make all kids who have fallen foul of them feel much better about it. And somehow, it ties all the mania together in a credible and thrilling story – The Bookbag
If you loved this, you might like these...