LoveReading View on Opposite of Always
Exhilarating love story with an unforgettable male protagonist and … time travel
May 2019 Debut of the Month
Reader, prepare for your heart to quicken, pound and swell with love, for this is a truly intoxicating tale of friendship, romance, seizing special moments and being willing to do anything – anything – for the people you love.
Jack King - one of the most authentic and charming characters to have stepped off a YA page - and his best-friends-since-childhood Franny and Jillian are on the brink of a new chapter in their lives, picking out colleges, planning their careers, while having fun hanging out. And then Jack meets Kate at a party and falls for her big-time. They're soul-mates who bond over their love of cereal until, all too soon, Kate dies. But this tragic event turns out to be the beginning of their story, for Kate's death flips Jack back in time and he meets her again, as if for the first time, with Kate sensing that she knows him from somewhere: "The way you look at me. Like we've been doing it our whole lives." Jack sets about trying to change the course of history, firstly so Kate doesn't die, and then also to swerve bad stuff away from his friends. But, in classic time travel tradition, this has dangerous effects. Cue Jack wryly referencing Back to the Future and Groundhog Day while up to his neck in serious complications.
Take away the pulse-quickening time travel element and you'd still have a novel heated by much heart and humour. With it, this is a firework of urgent, impactful YA fiction, a book that's ablaze with tough choices and all kinds of love. Throughout there's a whole lot of heart-melting cuteness - the trio's friendship, the sweet relationship between Franny and Jillian, Jack's parents' perfect marriage. The plot progression and developments revealed through the various play-outs of the past are brain-flippingly smart, with twists wending through to Jack's desperate need for "one more re-set to undo this tragedy".
Reader, I cried on the bus.
Opposite of Always Synopsis
When Jack and Kate meet at a party, he knows he's falling - hard. Soon she's meeting his best friends and Kate wins them over as easily as she did Jack. But then Kate dies. And their story should end there. Yet Kate's death sends Jack back to the beginning, the moment they first meet, and Kate's there again. Healthy, happy, and charming as ever. Jack isn't sure if he's losing his mind. Still, if he has a chance to prevent Kate's death, he'll take it. Even if that means believing in time travel. However, Jack will learn that his actions are not without consequences. And when one choice turns deadly for someone else close to him, he has to figure out what he's willing to do to save the people he loves.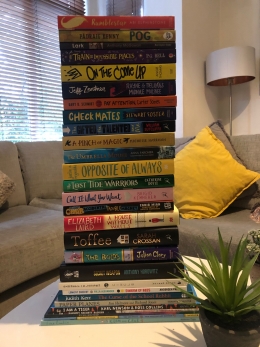 WE LOVE BOOKS! LoveReading4Kids is the biggest and best recommendation site for children's books. Our passion for children's books ranges from toddlers to teens and ensures that whatever the age, whatever the interest, that you have a steady stream of brilliant book recommendations for your child. Created in the same successful format of our original book recommendation website, LoveReading, we have a panel of editorial experts that select books right across the genres and age ranges, reading the latest releases to keep you fully updated. We also offer a variety of FREE services for parents and anyone who is interested in buying the best books for boys and girls of all ages. You can subscribe to our personalised newsletters which help you keep up to date with the latest and greatest book releases while receiving recommendations tailored to you. Sign up and select your preferences by registering with us today and receive our newsletters filled with the latest book recommendations in the categories of your choice. Our Star Books are a selection of our personal favourites from the books we've read each year. The ones that have really stood out from the crowd for us. We always say if you're only going to buy a few books this year, take a look at our Star Books selection. We have a HUGE giveaway for you to really end your year on a high. We're giving you the opportunity to win all the books selected as Star Books this year! That's around 40 books that you can keep for your family, share with friends or give as Christmas gifts. A year's worth of reading and some of our favourite books published this year, for you, for free! What are you waiting for? This draw is open only for UK residents currently in the UK and is free to enter, multiple entries from the same email address will only be counted once. The draw closes on 6th December 2019. The winners will be notified as soon as possible.
Opposite of Always Press Reviews
One of the best love stories I've ever read. Angie Thomas, bestselling author of The Hate U Give
Jack's narration is as funny as it is poignant as he moves from romantic to frantic and back again... [a] sentimental but not saccharine fantasy. - Bulletin of the Center for Children's Books
[Reynolds] creates an enormously likable character who is doing the best he can and then some ...the book's blend of humor and heartbreak wins out. - Publishers Weekly
Reynolds spins a poignant, dizzying tale of love and loss in this page-turning time-travel fantasy. - Horn Book
Romeo and Juliet meets Groundhog Day and Love Story in this wonderfully romantic story of teenage love and second chances.... Reynolds creates a pair of unforgettable protagonists who are doomed to love, lose, and work to find one another again and again. - Kirkus Reviews
A love story about friendship with a choose your own adventure twist... Any teen who's ever wanted a do-over will enjoy reading this story. - School Library Journal
Read this one, reread it, and then hug it to your chest. Reynolds' debut is wise, heartfelt, and wildly, infinitely charming. -- Becky Albertalli, #1 New York Times bestselling author of Simon vs. the Homo Sapiens Agenda and Leah on the Offbeat
This charming, wry novel packed with witty, crackling banter is propulsively readable. There are some big questions about choice, consequences, loyalty, and love in this novel, and Reynolds beautifully complements those heavy concerns with the sweet, funny, and genuine voice of his protagonist. - Booklist
If you loved this, you might like these...
All versions of this book
About Justin A Reynolds
justin. a. reynolds has been a pest control operator, night security guard, steel mill janitor, NASA intern, salesman of high-end faucet fixtures, and carpet-flooring installer. He was most recently a registered nurse, before trading his stethoscope for a pencil, but likes to think both instruments reveal the heart. He lives with his family in northeast Ohio, home to snow, Lake Erie, and the Cavaliers. The Opposite of Always is his first novel.
More About Justin A Reynolds