LoveReading View on The Train to Impossible Places
All aboard for magical adventures!
Shortlisted for The Branford Boase Award 2019 | January 2019 Debut of the Month
It's not every day that a magical train drives through your hallway but that's what happens to Suzy at the opening of this terrific adventure story. She discovers it's the Impossible Postal Express, responsible for making deliveries throughout the Union of Impossible Places. Being something of a scientist, and deeply inquisitive, Suzy can't let this opportunity pass and climbs aboard. It's not long before she's been deputized as a Postal Operative (by the troll in charge), which in turn embroils her in an even bigger adventure, and one of those magical good versus evil power struggles that are central to all the best fantasy adventures. This rattles along at top-speed and features one of the most varied cast of characters since Hogwarts welcomed young Potter. Fans of magical stories mustn't miss this train!
One to recommend to fans of Nevermoor and The Last Chance Hotel.

We've got some great stuff related to this book in our KidsZone.
Head over there and check it out now.
The Train to Impossible Places Synopsis
When Suzy hears a strange noise in the middle of the night, she creeps downstairs to find a train roaring through her house. But this is no ordinary train. This is the magical delivery express for the Union of Impossible Places. Whisked on board by a troll-boy, Suzy's world is turned upside down when she's asked to deliver a cursed package to a fearsome sorceress. And quite suddenly, Suzy realizes the fate of the Impossible Places is in her hands...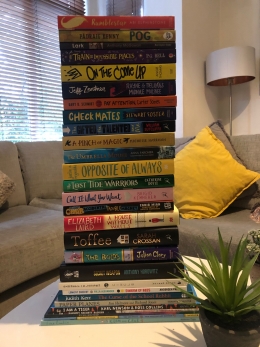 WE LOVE BOOKS! LoveReading4Kids is the biggest and best recommendation site for children's books. Our passion for children's books ranges from toddlers to teens and ensures that whatever the age, whatever the interest, that you have a steady stream of brilliant book recommendations for your child. Created in the same successful format of our original book recommendation website, LoveReading, we have a panel of editorial experts that select books right across the genres and age ranges, reading the latest releases to keep you fully updated. We also offer a variety of FREE services for parents and anyone who is interested in buying the best books for boys and girls of all ages. You can subscribe to our personalised newsletters which help you keep up to date with the latest and greatest book releases while receiving recommendations tailored to you. Sign up and select your preferences by registering with us today and receive our newsletters filled with the latest book recommendations in the categories of your choice. Our Star Books are a selection of our personal favourites from the books we've read each year. The ones that have really stood out from the crowd for us. We always say if you're only going to buy a few books this year, take a look at our Star Books selection. We have a HUGE giveaway for you to really end your year on a high. We're giving you the opportunity to win all the books selected as Star Books this year! That's around 40 books that you can keep for your family, share with friends or give as Christmas gifts. A year's worth of reading and some of our favourite books published this year, for you, for free! What are you waiting for? This draw is open only for UK residents currently in the UK and is free to enter, multiple entries from the same email address will only be counted once. The draw closes on 6th December 2019. The winners will be notified as soon as possible.
The Train to Impossible Places Press Reviews
"Great fun, fast-moving and inventive" Philip Reeve, author of Mortal Engines
"An exciting, imaginative, wild ride of a story that never lets up for a minute." Robin Stevens, author of Murder Most Unladylike
If you loved this, you might like these...