LoveReading View on The Lonely Christmas Tree
December 2019 Book of the Month
''Twas the night before Christmas …' but we're on a snowy hillside where a lonely tree shivers in the cold. As it longs to be in the brightly lit little town below, suddenly footsteps suddenly approach. Somebody very important collects the tree and puts it at the centre of some special celebrations, before leaving with the familiar words: 'Happy Christmas to all, and to all a good night!' Taking inspiration from Clement C Moore's classic poem, Chris Naylor-Ballesteros' new book is filled with the joy of Christmas, and captures all its sense of magical anticipation. In a handsome small format, there's a full page illustration on each right hand page and they tell the story with as much vivacity as the lines of verse opposite. It all concludes with a sparkling double page spread, the tree glowing in the foreground as St Nick flies off into the Christmas night silhouetted against the moon. If this doesn't set you up for Christmas and its jollities, nothing will!
The Lonely Christmas Tree Synopsis
A gorgeous gift book to celebrate the true meaning of Christmas - a perfect gift for any Christmas stocking. A lonely tree stands on the cold, frosted hillside gazing at the other trees sparkling in the village below. How it longs to be with them! Then suddenly out reaches a warm friendly hand, and with a wobble and a shake, a very jolly fellow takes the tree on a journey to a new place ... where the tree will feel that it belongs once more, surrounded by old friends and new.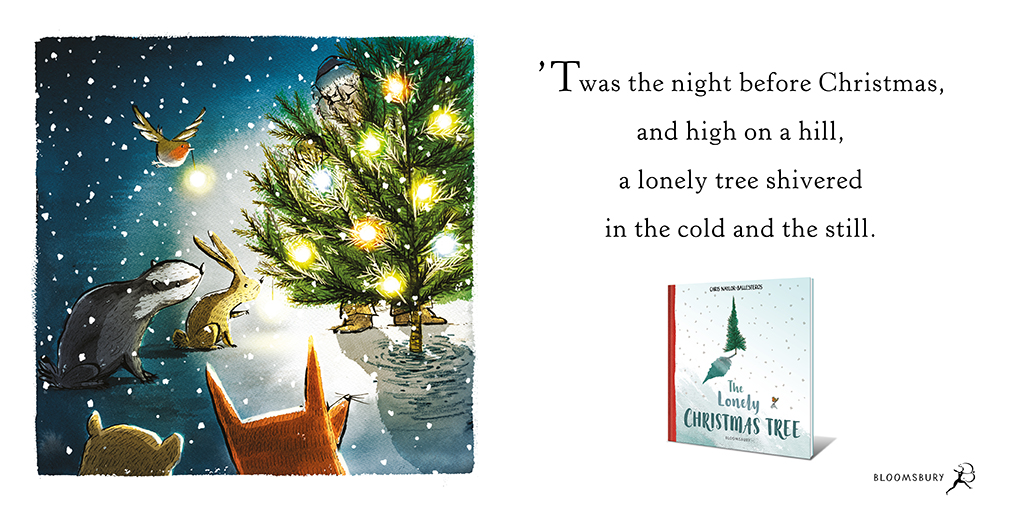 The Lonely Christmas Tree Press Reviews
Praise for I Love You, Stick Insect;
A book that delights with its sheer unconquerable vivacity. Chris Naylor-Ballesteros is an illustrator to watch - Books For Keeps

Praise for I'm Going to Eat this Ant;
Brilliant illustrations with plenty of humour - Angels & Urchins
A picture book debut full of charm and style - The Bookseller
The illustration is very stylish, but also incredibly child-friendly, and you'll be rooting for the hungry Anteater from the start. A fabulous, funny book that also celebrates food - BookTrust
A hilarious, stylish buffet of a picture book! - Guardian