LoveReading View on Love Frankie
Growing Up. Falling in Love. Coming Out.
A timely return to young teen fiction for Jacqueline Wilson with a sparkling story of first love, finding yourself and coming out, as legislation for more inclusive education, including teaching about LGBT families in primary schools, is due to come into force.
Go to Jacqueline's Instagram for Love Frankie videos and links!
Other Info
A message from Jacqueline Wilson "I've had many emails from readers asking me to write a young love story again. So this is it – a story about a girl called Frankie who falls in love with another girl in her class. I wanted to show how surprising, exhilarating and wonderful first love can be – and how it can have unexpected consequences. I hope readers will take Frankie to their hearts."
Love Frankie Synopsis
Frankie is nearly fourteen and teenage life certainly comes with its ups and downs. Her mum is seriously ill with MS and Frankie can feel herself growing up quickly, no thanks to Sally and her gang of bullies at school. When Sally turns out to be not-so-mean after all, they strike up a friendship and are suddenly spending all of their time together.
But Frankie starts to wonder whether these feelings she has for Sally are stronger than her other friendships. Might she really be in love? Frankie doesn't want Sally to just be her friend. She wants her to be her girlfriend. But does Sally feel the same?
The must-have new novel about falling in love for the first time from bestselling, much-loved children's author, Jacqueline Wilson.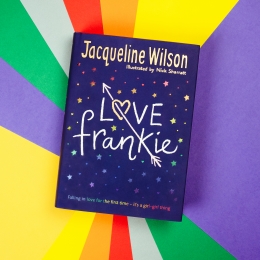 Jacqueline Wilson returns to teenage fiction with Love Frankie, a sparkling teenage story about two girls falling in love with each other for the very first time. We are delighted to have THREE HARDBACK copies to give away to our lucky readers! Love Frankie would make a fantastic Christmas present for older fans of Jacqueline Wilson - good luck!
Love Frankie Press Reviews
Whether you'll grab your hair in agony or cry silent tears for Frankie's broken heart, this one will stick with you for a while - The Nerd Daily
I would have loved it as a younger teen. I'm so pleased for all the girls who will get to read this at the same age as Frankie and see themselves reflected in the pages - Lesbrary.com
There's a reason why Jacqueline Wilson has sold more than 40m books. Yet again she delivers a touching, bittersweet drama about ordinary, credible lives. The characterization is spot on, showing real insight into how today's youngsters think, talk and behave, and Frankie's story beautifully conveys the thrill of first love and the additional complications that being gay can bring to it - Financial Times
A powerful and important love story, this book explores coming of age and coming out. I hope it will give girls everywhere the courage and freedom to follow their hearts - Good Housekeeping
First love, eh? It never runs smooth. But who else would we turn to in order to reassure ourselves that it'll turn out alright in the end? Nobody but Jacqueline Wilson, of course! - Bookbag
If you loved this, you might like these...