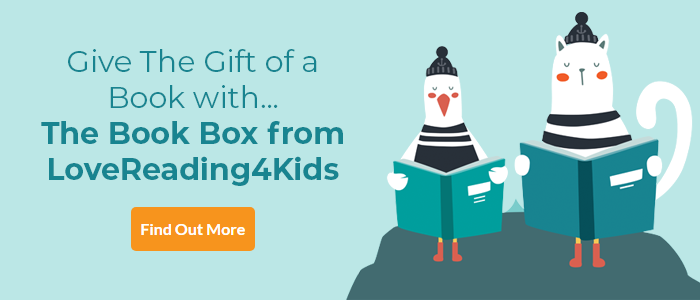 Skin Taker Review
Eighth epic story of Stone Age survival and spirit magic in the 2nd gen Wolf Brother series
April 2021 Book of the Month
Michelle Paver has done it again in the eighth book in her epic, emotional Chronicles of Ancient Darkness Stone Age series that began with Wolf Brother. Skin Taker reels with a rollercoaster sense of adventure, shadowy atmosphere and an infectious spirit of survival as Torak, Renn and Wolf must find new ways to exist during the midwinter Dark Time, when new dangers are awoken and devastation looms.
Torak remains the brave, brash protagonist readers have long known and admired, yet his character has been deftly developed too, and he's here presented with fierce challenges - and responses - that befit his experiences. Though its setting is aeons ago, and though Torak's world is suffused in otherworldly spirit magic, Paver has a remarkable skill for making her stories richly relatable. The emotional dilemmas and relationships have resonance; the detail and atmosphere of the natural world are truly tangible, and what an exhilarating immersion in the wild this offers adventure-seeking readers.
Read a Q&A with Michelle Paver about Viper's Daughter, as she returned to the Wolf Brother series after over a decade.
Other Info
A message from Michelle Paver;
Dear Reader,
Five years ago, when I was first thinking of writing more Wolf Brother books, I got the idea of a catastrophe devastating Torak's world. Of course I had no inkling that by the time I came to write Skin Taker, our own world would be in lockdown, battling the threat of Covid-19.
Skin Taker begins with a bang. A meteorite strikes the Forest, plunging Torak's world into chaos. As the clans struggle to survive, they face the same choice we do today: do they turn on each other, or work together?
As with all the Wolf Brother books, I wanted to make readers feel they're living the adventure with Torak, Renn and Wolf. So to make Skin Taker real, I went to north Norway in the midwinter darkness, and tracked grizzly bears in Alaska. To get the feel of being lost underground, I crawled through caves 200 feet deep.
I'm enormously proud of Skin Taker, I really hope you enjoy it!
December 2020
----------------------------------------
The Chronicles of Ancient Darkness

We've got some great stuff related to this book in our KidsZone.
Head over there and check it out now.
Skin Taker Synopsis
Michelle Paver is back with the second book in the new Wolf Brother series, Skin Taker - an epic, wild and magical adventure whose themes of survival, resilience and friendship, will resonate with children far and wide.In the Dark Time of midwinter, disaster strikes the Forest. Chaos rules. Bears woken from their dens prowl the shadowy valleys. Desperate clans battle for survival. Only demons thrive. With their world in turmoil, Torak, Renn and Wolf are tested as never before. And as a new evil haunts the devastated land, Torak must risk his sanity, his life and even his souls to save everything he loves...
Skin Taker carries you back to the Stone Age, drawing you deeper into the astonishing adventure which began with Wolf Brother and has captivated millions of readers.
Skin Taker Reader Reviews
In addition to our Lovereading4Kids expert opinion some of our Reader Review Panel were also lucky enough to read and review this title. You can click here to read the full reviews.
Skin Taker Press Reviews
Praise for Viper's Daughter;
'Meticulously researched, atmospheric [...] and relentless, this instalment deservedly introduces Paver to a new generation of readers' Guardian
'What rich, dazzling, immersive storytelling. The landscape was so bright the light left me blinking, the details as sharp as a carved bone needle. To journey with Torak and Renn, and Wolf, whose ears were so keen he could hear the clouds pass, was an absolute privilege. The best book I have read this year by a country mile' Hilary McKay, author of The Skylarks' War
'It was such a thrill to revisit Torak, Wolf and Renn's world. I was enthralled from start to finish. Viper's Daughter is sharp, striking, and loaded with the wisdom of the deep past. I am in awe of Paver's accomplishment' Sophie Anderson, author of The House with Chicken Legs
'Michelle Paver is a writer of extraordinary talent. I was enthralled, from start to finish. The storytelling was every bit as vivid and immersive as I remembered ... Michelle is in a league of her own with this series and what luck for us all that she hasn't finished with Torak, Renn and Wolf's world yet' Abi Elphinstone, author of Rumblestar
'Skillful, satisfying, and minutely researched, this powerful evocation of an ancient world is vivid in its imagery and captivating in its excitement' Adrienne Byrne, Muswell Hill Children's Bookshop
If you loved this, you might like these...